These tasty soft and chewy with a little bit of crispiness at the edges, gooey rich dark chocolate chips , and the crunchy salty nutty pistachios are lovely cookies to eat.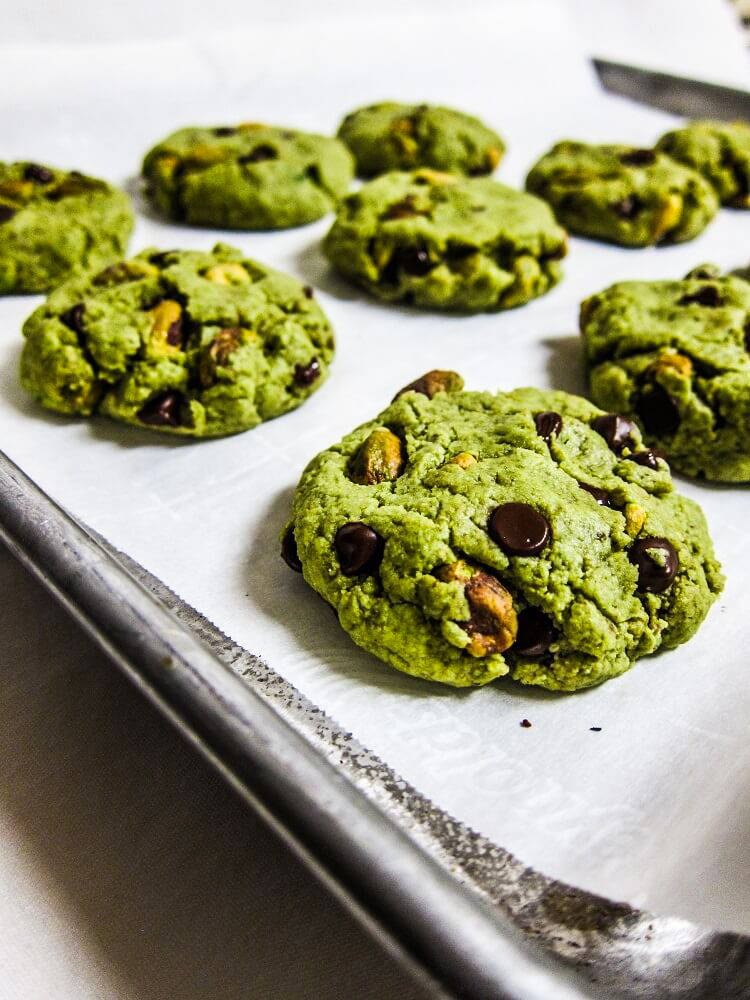 ---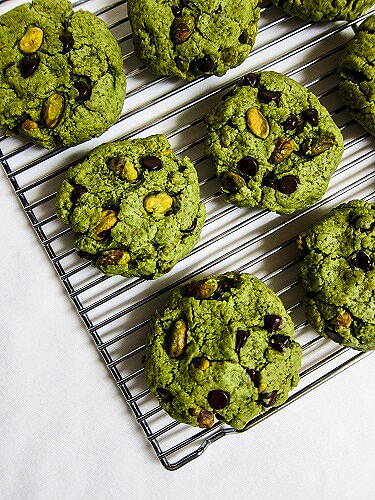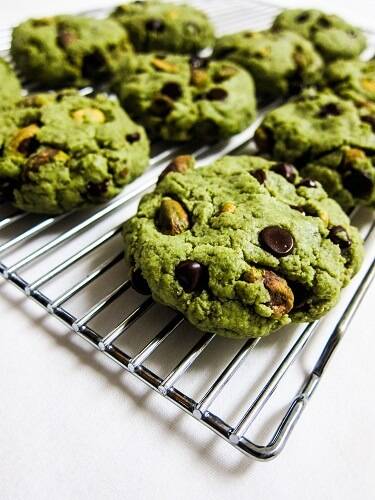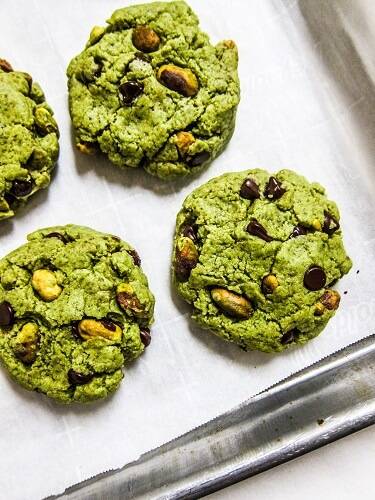 ---
Ingredients:
Makes 16 large cookies
2 Tbsp ground flax seed
1/4 cup plus 2 Tbsp filtered water
1/2 cup virgin coconut oil, warmed to liquid
1/2 cup raw cashew butter
1 1/2 cups xylitol (or coconut sugar, regular cane sugar can be used too if you prefer that)
1 Tbsp matcha powder
1 teaspoon vanilla extract
1 teaspoon baking soda
3/4 teaspoon sea salt
3 cups gluten free all purpose flour
3/4 cup chopped pistachios
3/4 cup vegan dark chocolate chips
Instructions:
Preheat your oven to 350F degrees.
In a small bowl, whisk together the flax seed and filtered water. Set aside in the refrigerator for 15 minutes.
Meanwhile, in a large bowl, coconut oil and cashew butter with sugar and mix until well combined.
Mix in the vanilla extract and flax mixture until well combined. Add the matcha, baking soda and salt then the flour, a cup at a time, mixing between each addition, until well combined. Mix in the chocolate chips and pistachios.
Line 2 large baking sheets with parchment paper.
To Form the cookies take about a 1 1/2 inch chunk of dough, form into a ball and on prepared cookie sheets a couple inches apart, and press down just slightly. Bake for about 12-15 minutes, until puffed and just starting to brown slightly.
Remove from the oven, and let cool on the pan a few minutes, then remove to a wire rack to cool.
Repeat with remaining cookies and let cool for at least 15 minutes before enjoying.
          This recipe is made by Amy Lyons from Fragrant Vanilla Cake
This recipe is a part of our "Top 10 Snack Recipes with Matcha" that can be downloaded here.