This pastry is great as a snack and dessert. It's best to eat when fresh.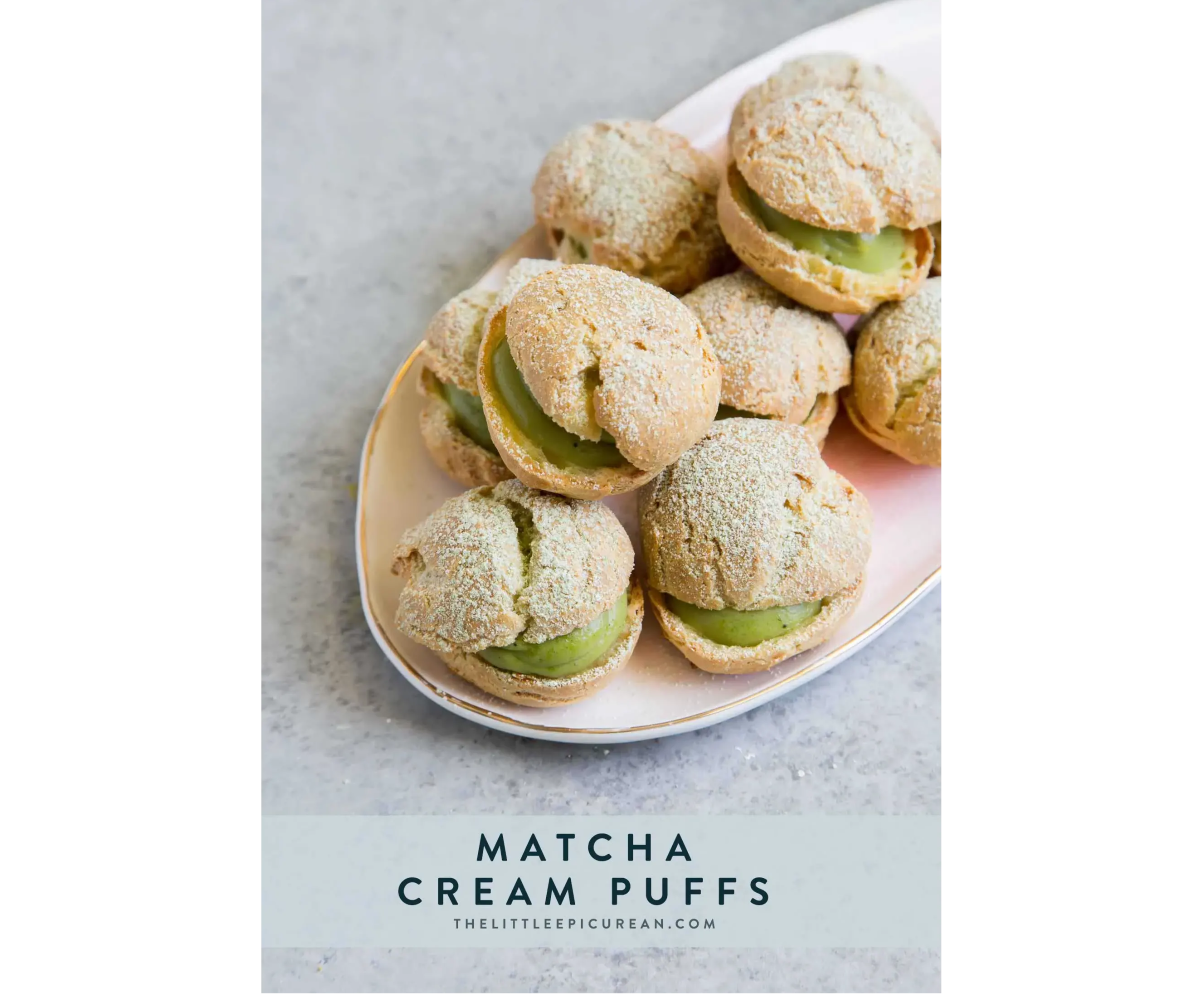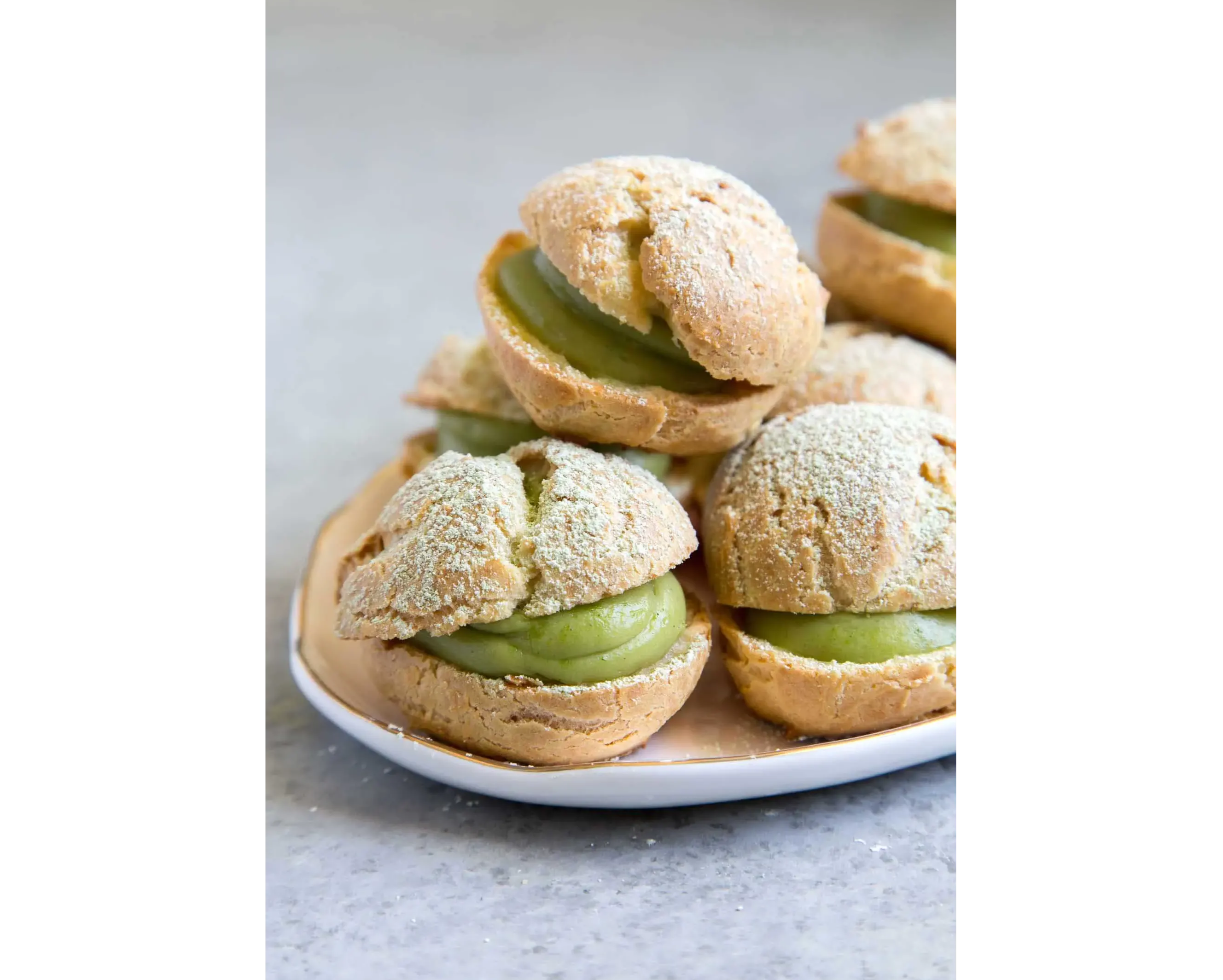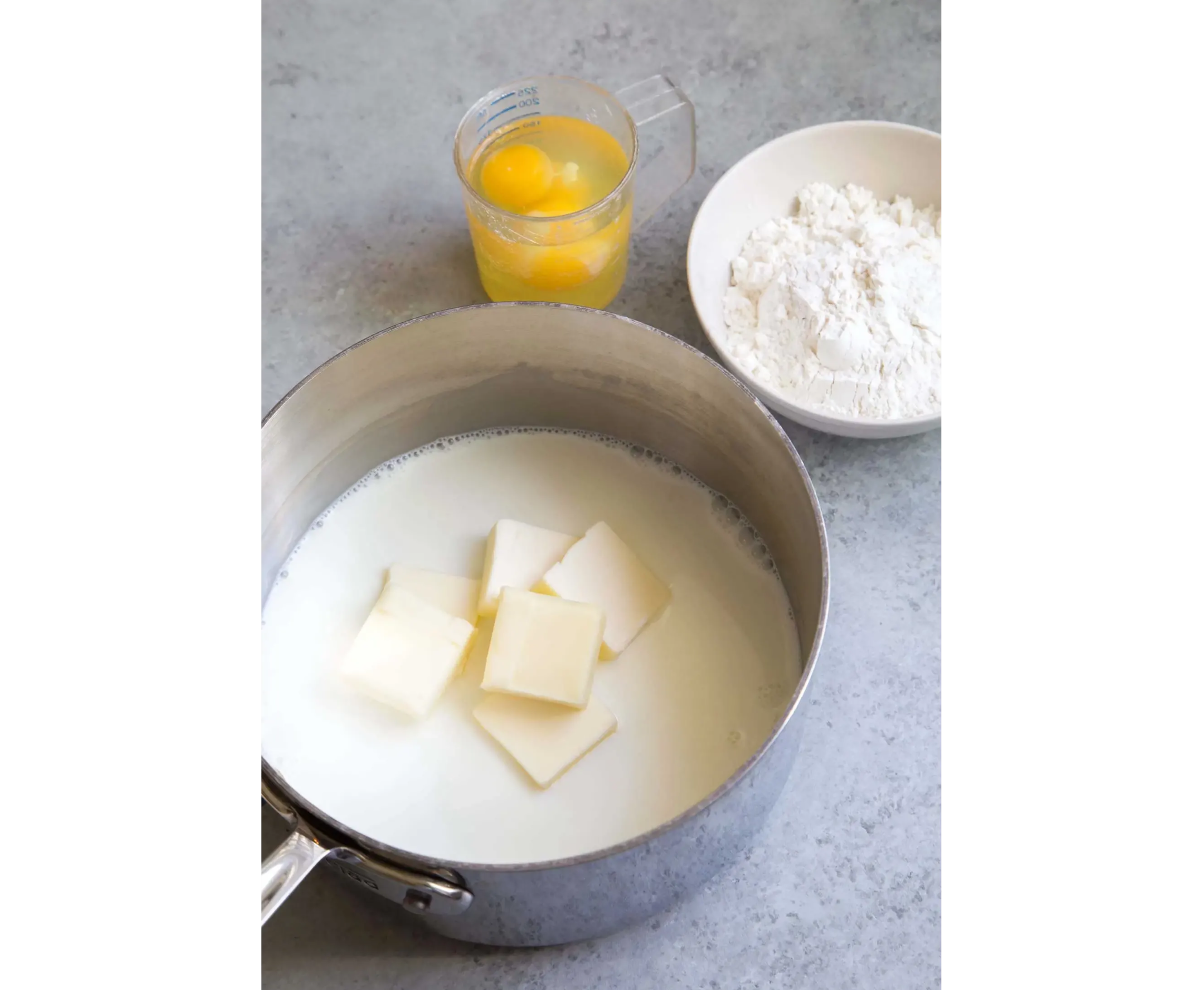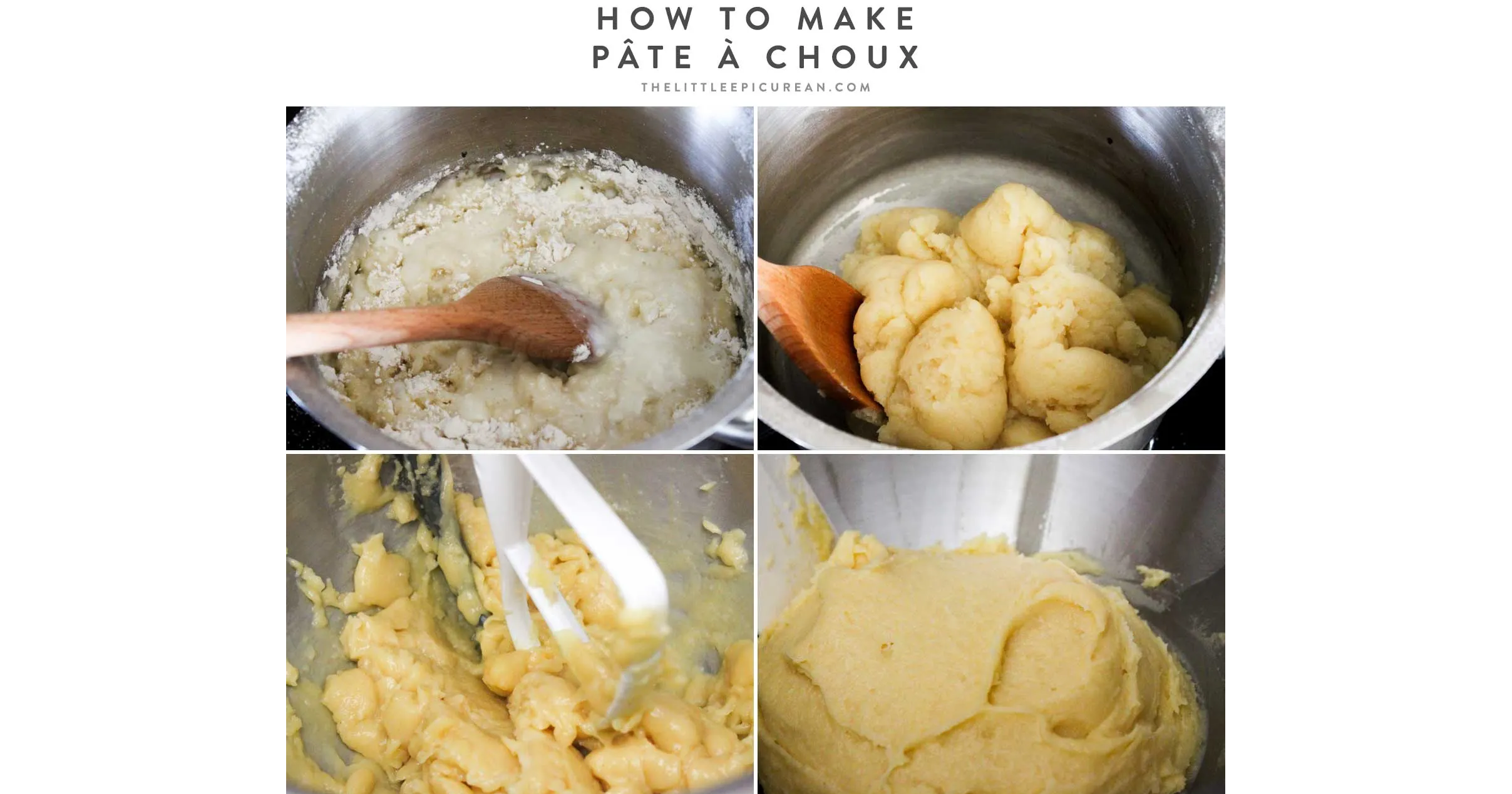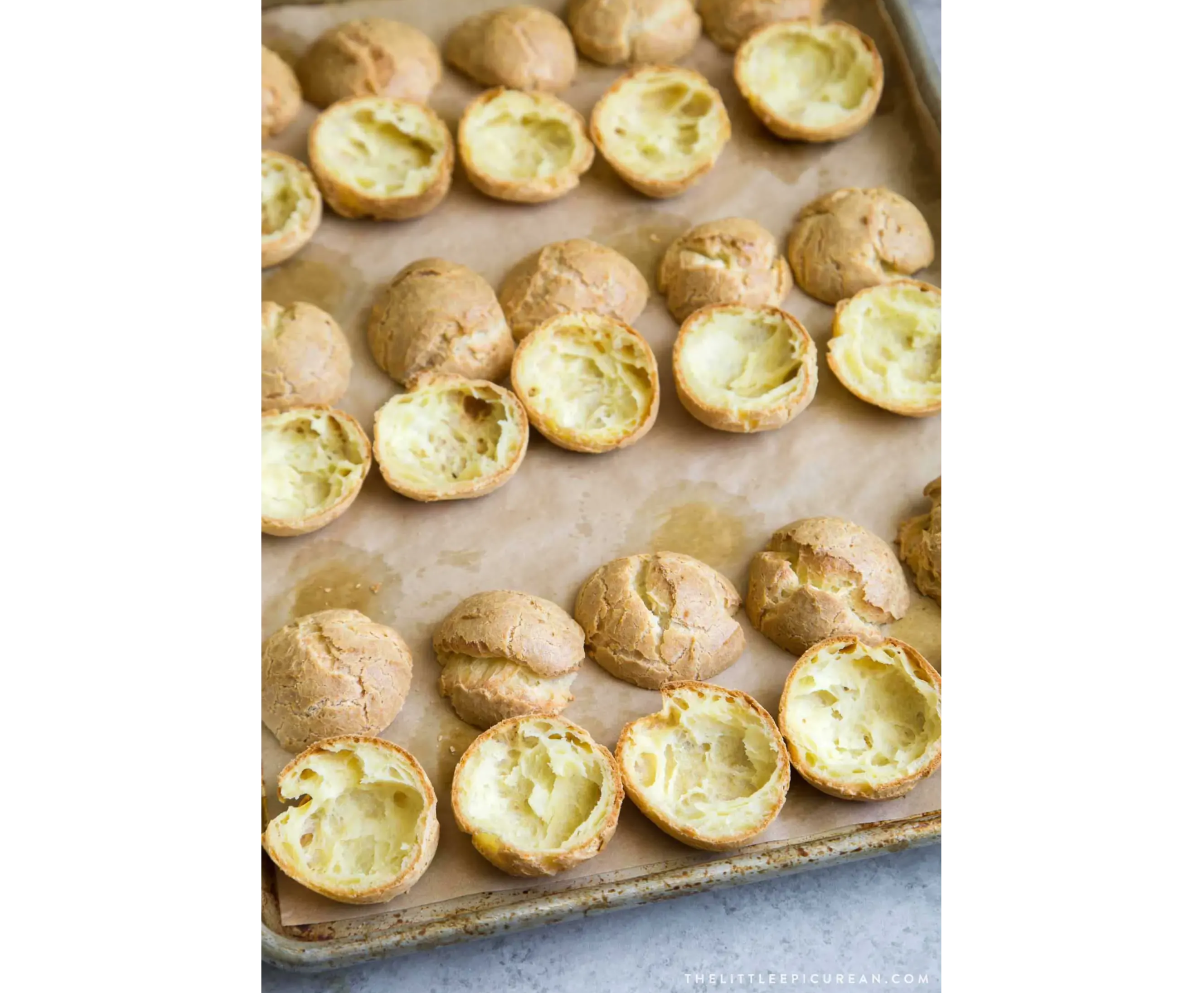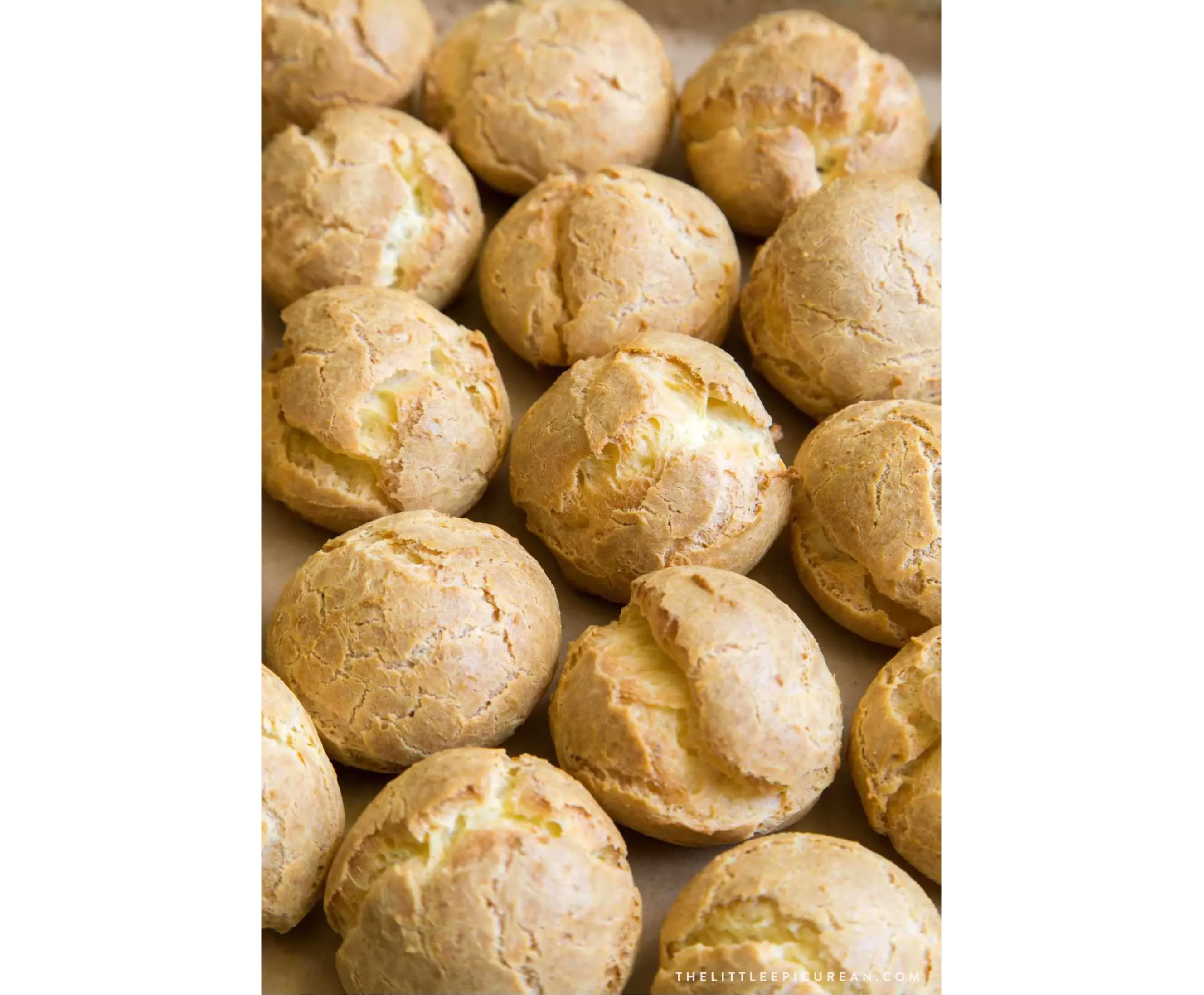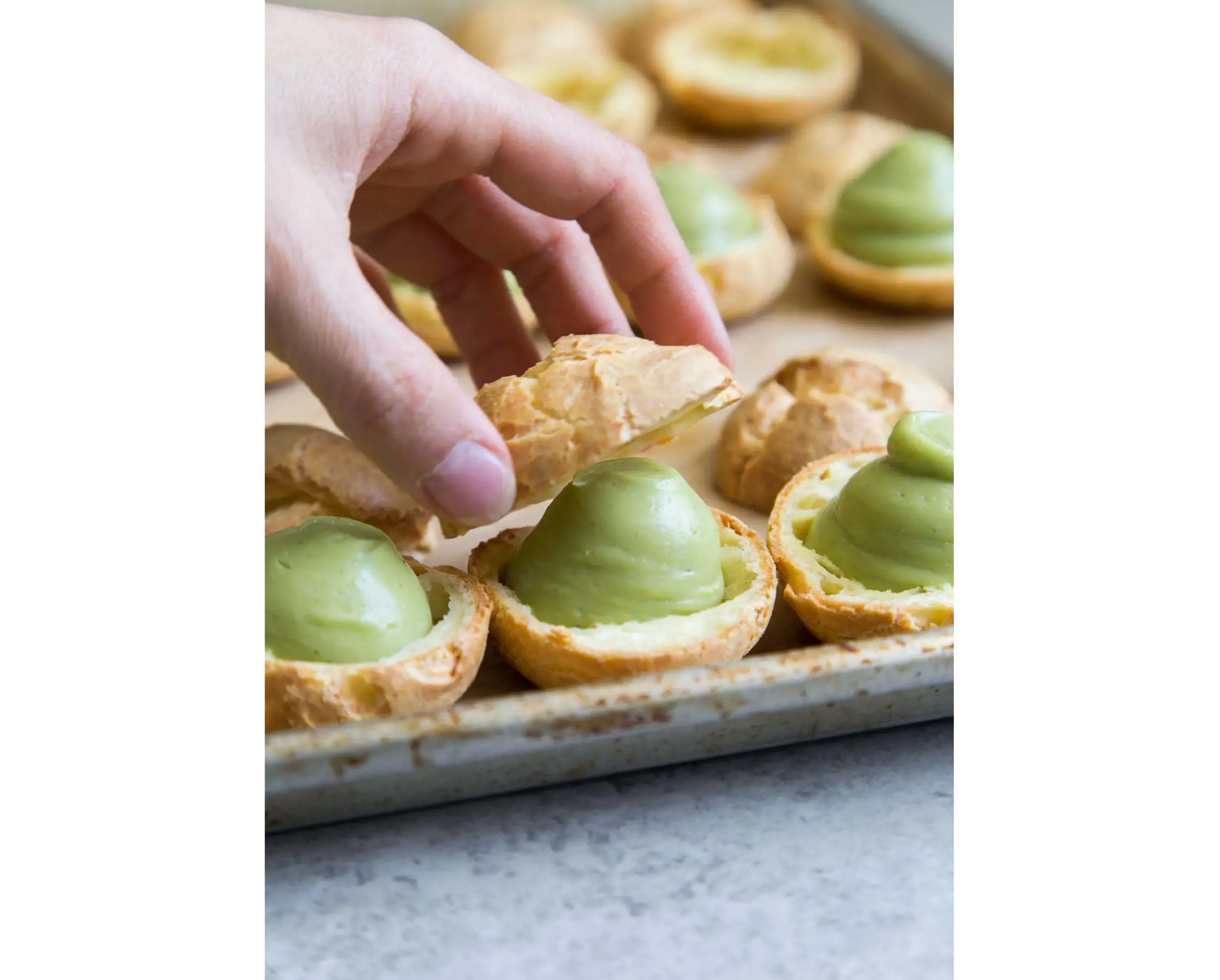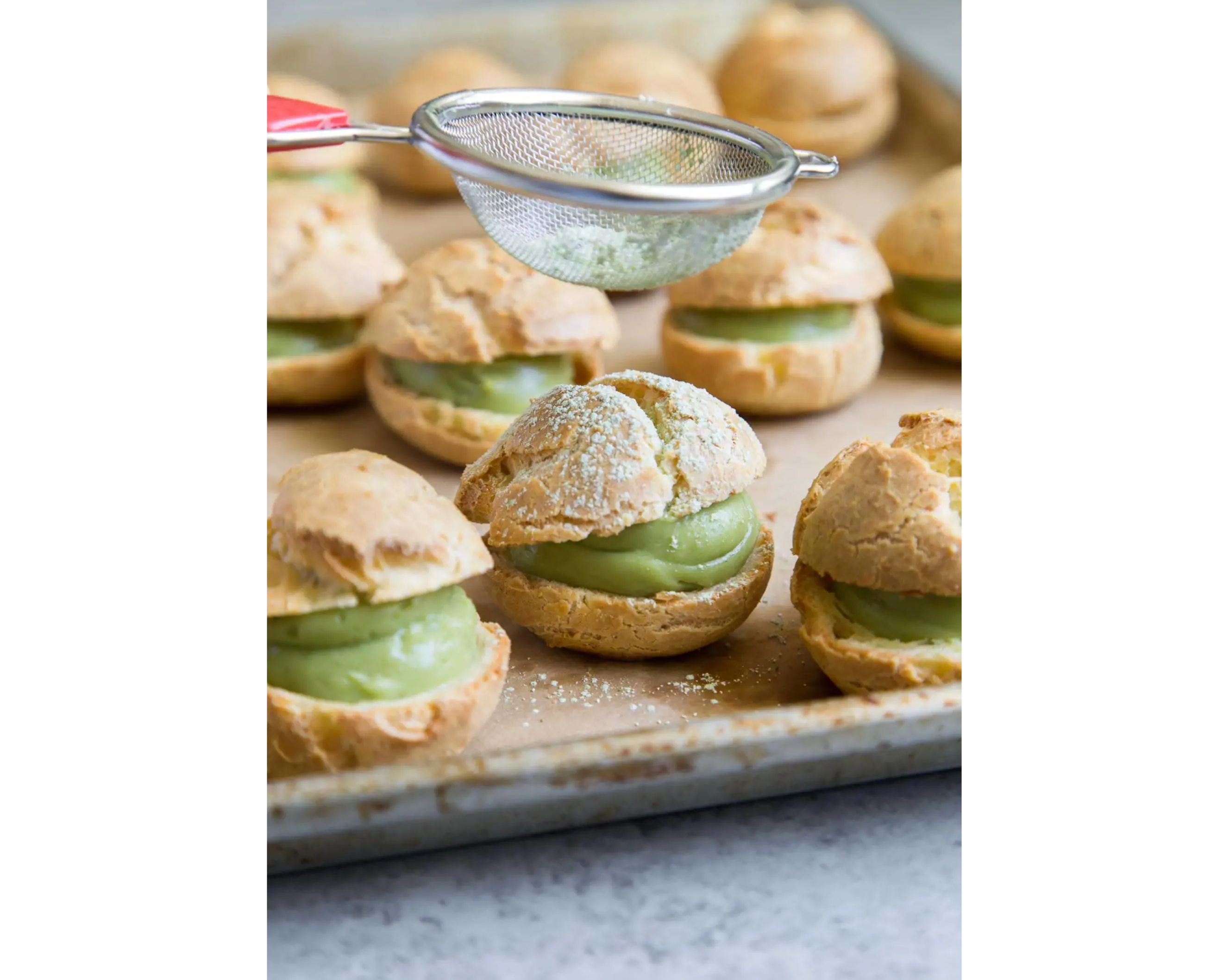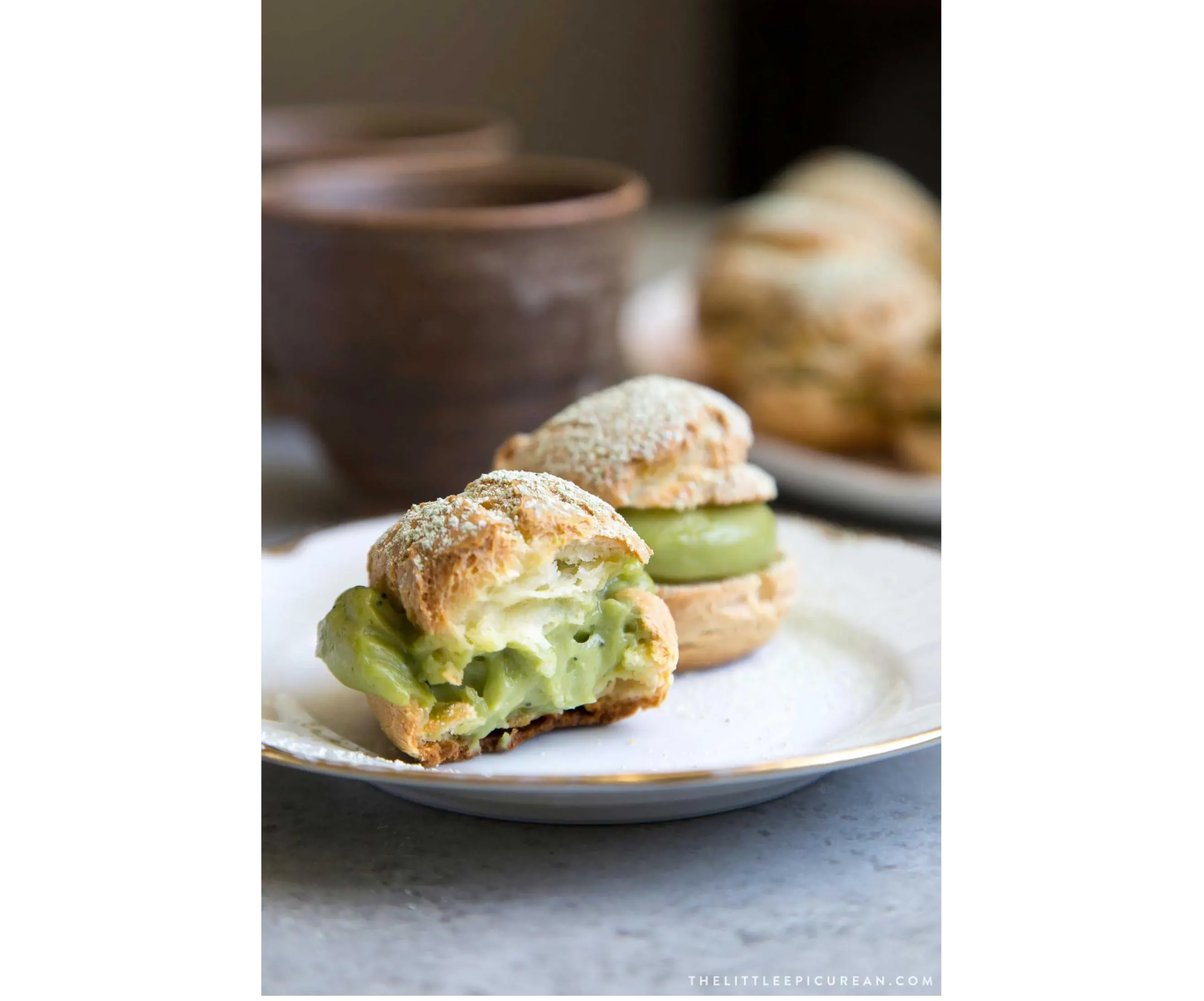 ---
Ingredients:
Matcha Pastry Cream:
2 cups whole milk
3/4 cup granulated sugar
1/4 cup cornstarch
3 large egg yolks
2 Tablespoon unsalted butter
1/4 teaspoon kosher salt
1 teaspoon pure vanilla extract
2 teaspoon matcha powder, sifted
Profiteroles:
1 cup whole milk
1/2 cup unsalted butter, cut into tablespoons
2 Tablespoon granulated sugar
1 teaspoon kosher salt
1 cup bread flour, sifted
3 large eggs
1 large egg white
Instructions:
Matcha Pastry Cream:
Line a half-sheet baking pan with plastic wrap, ensuring the sides of the pan are also covered. Set aside.
In a heavy-bottomed sauce pot, combine milk and 1 tablespoon of sugar. Set over medium-high heat and bring to a simmer. Mean-while, in a large bowl, whisk together remaining sugar, cornstarch, and egg yolks.
Once milk is almost at a boil, slowly add milk to egg mixture about 1/4 cup at a time. Whisk as you add milk to distribute heat and prevent the eggs from curdling. Continue to add milk and whisk until there are only a few tablespoons of milk left in the sauce pot. Then pour all the egg-milk mixture back into the sauce pot.
Reduce stove heat to medium. Constantly stir mixture until the custard has thickened. Keep mixing until custard has come to a boil. Remove from heat. Add butter, salt, and vanilla. Whisk until smooth. Add in sifted matcha powder and mix until well combined.
Pour the hot pastry cream into the prepared plastic wrapped sheet pan. Spread evenly into a thin layer. Cover with plastic wrap and freeze for 10-15 minutes until pastry cream has cooled to room temperature. Remove from freezer. Transfer pastry cream to an airtight container and keep chilled in the fridge until ready to use.
*Before using, give pastry cream a good whisk or use an electric hand mixer to beat the pastry cream smooth.
Profiteroles:
Preheat oven to 375 degrees F. Line baking sheet with parchment paper or silicone baking mat. Set aside.
In a medium sauce pot, combine milk, butter, sugar, and salt over medium heat. Bring mixture to a boil. Add sifted flour and stir to combine using a wooden spoon or sturdy silicone spatula. Continue to heat and bring to a boil as you continually stir dough. Keep stirring until dough pulls away from the sides of the sauce pot.
Once the dough is a smooth, cohesive ball, transfer dough to the bowl of a stand mixer fitted with a paddle attachment. Beat at medium speed until the dough has cooled to room temperature. Do not be alarmed when the dough steams!
When dough has cooled, add the eggs one at a time. Make sure egg is incorporated before adding the next egg. Scrape down bowl as needed to ensure thorough mixing. The batter will loosen and look curdled at first. Continue to beat until mixture is shiny, thick, and smooth.
Transfer batter to a piping bag fitted with a 16 mm plain round tip. Pipe 2-inch rounds on prepared baking sheet. Alternatively, use a medium cookie scoop to portion out batter. Place dough mounds at least 1-1/2 inches apart.
Bake in preheated oven for 20 minutes. Lower oven temperature to 325 degrees F and bake for another 20-30 minutes until profiteroles feel light in weight. Allow profiteroles to cool.
Assembly:
Once profiteroles are cool, slice off the top 1/3. Use a pastry bag, small cookie scoop, or two spoons, to fill the bottom cavity of profiterole with matcha pastry cream. Place the cut piece back on top of filled profiterole. Repeat with remaining profiteroles. Dust with matcha powdered sugar before serving.
Notes:
To make matcha powdered sugar mixture: whisk together 2 tablespoons powdered sugar with 1 teaspoon matcha powder. Sift over assembled matcha cream puffs.I used this size 40 medium cookie scooper.
The recipe is made by Maryanne Cabrera from The Little Epicurean
This recipe is a part of our "Top 10 Bread and Dough Recipes with Matcha" that can be downloaded here.