Matcha is an ancient form of green tea unique to Japan and China. Instead of throwing out the leaves once the tea is brewed, Matcha is made from the whole green tea leaf, which is specially grown and ground into a finely-powdered form.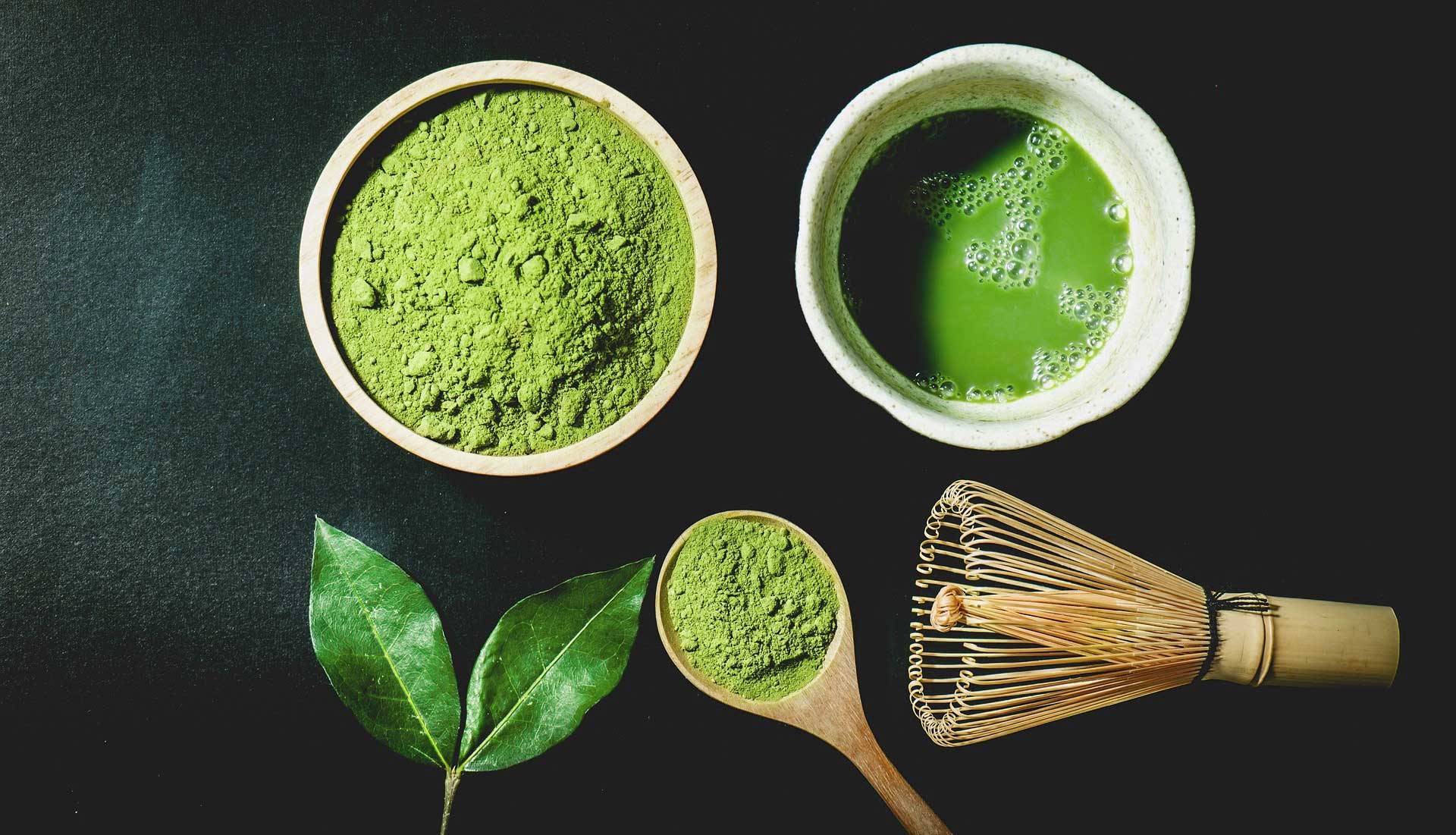 Matcha tea has a long history that dates back as far as the 11th century in Japan. It is thought that a Zen Monk by the name of Eisai brought green tea seeds from China and began planting the tea in monasteries. Believing the tea leaves had the ability to promote longevity and to cure certain ailments, Eisai would crush the leaves into a rough powder and drink them blended in water. This first form of matcha tea was considered a precious medicine and was only consumed by a select few.
By the late 12th century, matcha tea was incorporated into Buddhist ceremonies and by the 13th century, Samurai warriors had begun preparing and drinking matcha before battle. The Samurai warriors' tea traditions evolved into what is today known as the Japanese tea ceremony.
Unlike other teas, which use tea bags or tea leaves that are removed from the hot water after steeping, matcha preparation involves consuming the ground tea leaves themselves. Because you are ingesting the entire green tea leaf, the caffeine content is much greater than green tea that is steeped.
The caffeine content in matcha varies depending on the quality of tea leaves and whether you are making thick (koicha) matcha or thin (usucha) matcha. On average, Matcha contains less than half the amount of caffeine per cup than in a similar-sized cup of coffee.
Not all people fell in love with matcha taste from the first sight. It has a different taste than we already know. It's the same experience as with coffee and tea- you begin to love it after few cups! Most people after drinking it for a few days start to crave the nutritious flavor of matcha. There are many variations of matcha- form bitter to savory or sweet. Each person needs to find his matcha match that meets his expectations.
Making latte, frappe, adding it to your favorite smoothie or baking goods is an excellent way to become accustomed to a new taste. You can also sweeten it with a bit of honey or maple syrup.
Ceremonial Grade - meant for drinking straight without sweetening, generally the highest quality and highest priced matcha products. Great aroma, great color, great taste, great texture. Production generally uses the best spring-harvested leaves and ground by a stone mill.
---
Latte Grade - products that can be drunk straight (or use for practice by tea ceremony students), but priced reasonably enough that you wouldn't feel guilty sweetening the flavor. Decent aroma, great color, great taste, decent texture. Production generally uses spring-harvested or early summer harvested leaves, and ground by stone mill.
---
Culinary Grade - meant for use as an ingredient in cooking, but depending on your taste preferences, go ahead and use them for lattes, smoothies, etc. Little aroma, decent color, decent taste, grainy texture. Production generally uses summer or autumn harvested leaves (which are allowed to grow larger for more volume), and ground using a ball mill (think drum-style dryer with ceramic balls that crush the leaves). This type of grinding results in a sharp grain vs a the smooth grain created by stone mills, and the crushing generates heat which degrades the aroma. In exchange, the large production volume reduces the price.
Storing and Expiration Date
Matcha Green Tea Powder is a delicate product. It doesn't like heat, air, moisture or light. Matcha lasts about two years on the shelf. If your matcha has expired, we recommend baking with it.
After opening the pouch it should be used up within two months maximum to ensure freshness, color, and creamy flavor.
The best way to keep it fresh is to store it sealed in a cool, dark and dry place. We recommend fridge.