This explosive tart makes your gatherings remarkable. It goes along not just strawberries but also different berries like raspberries, blueberries, and blackberries. Try it now!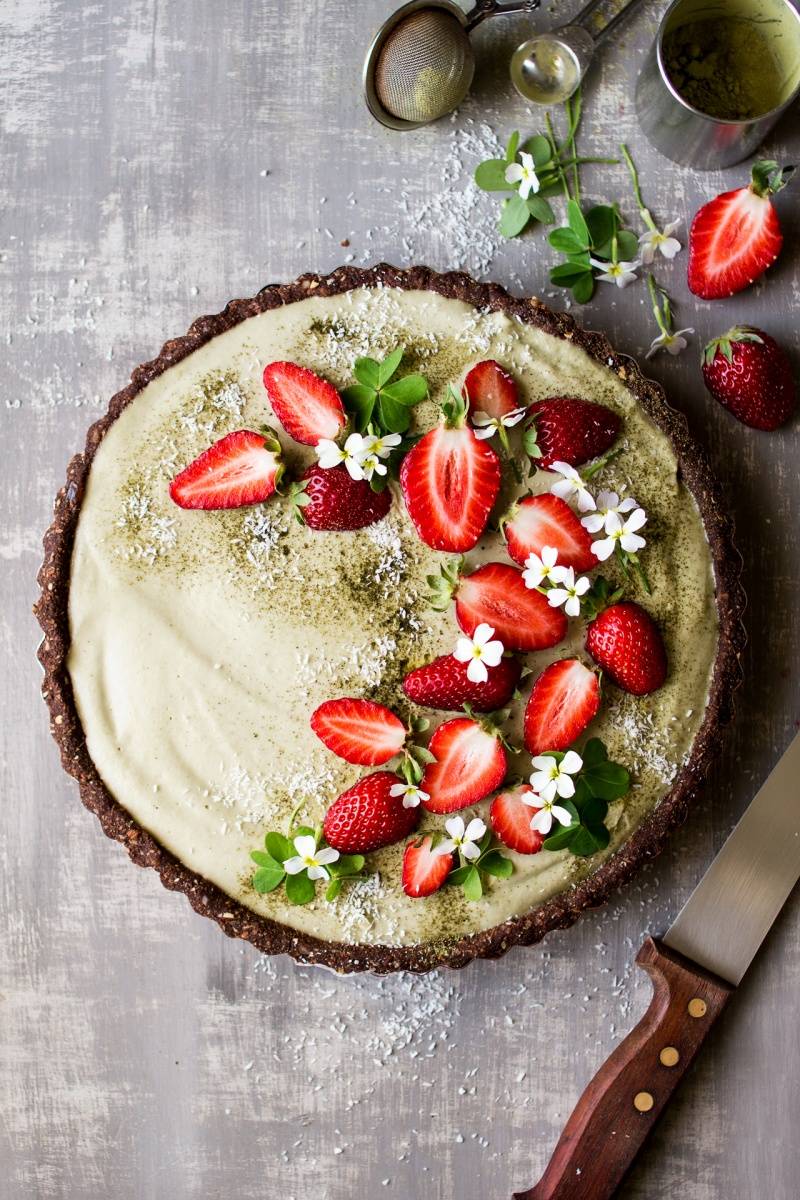 ---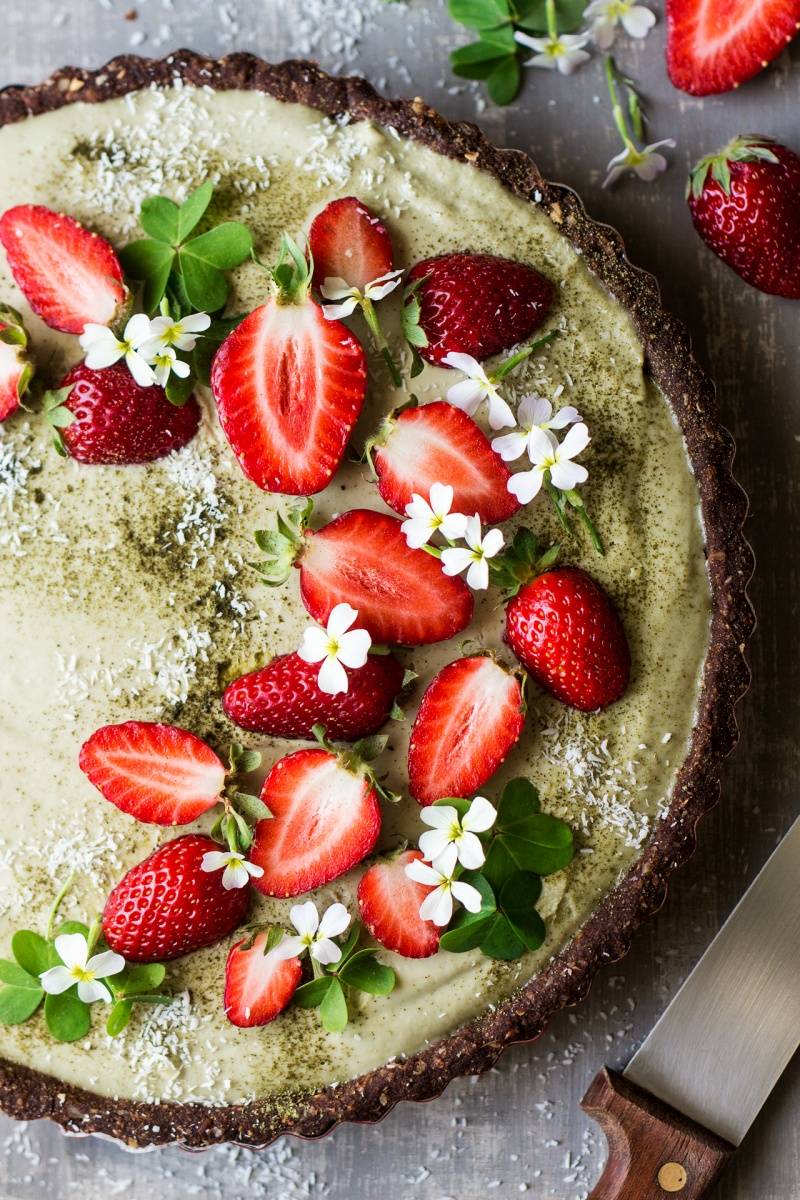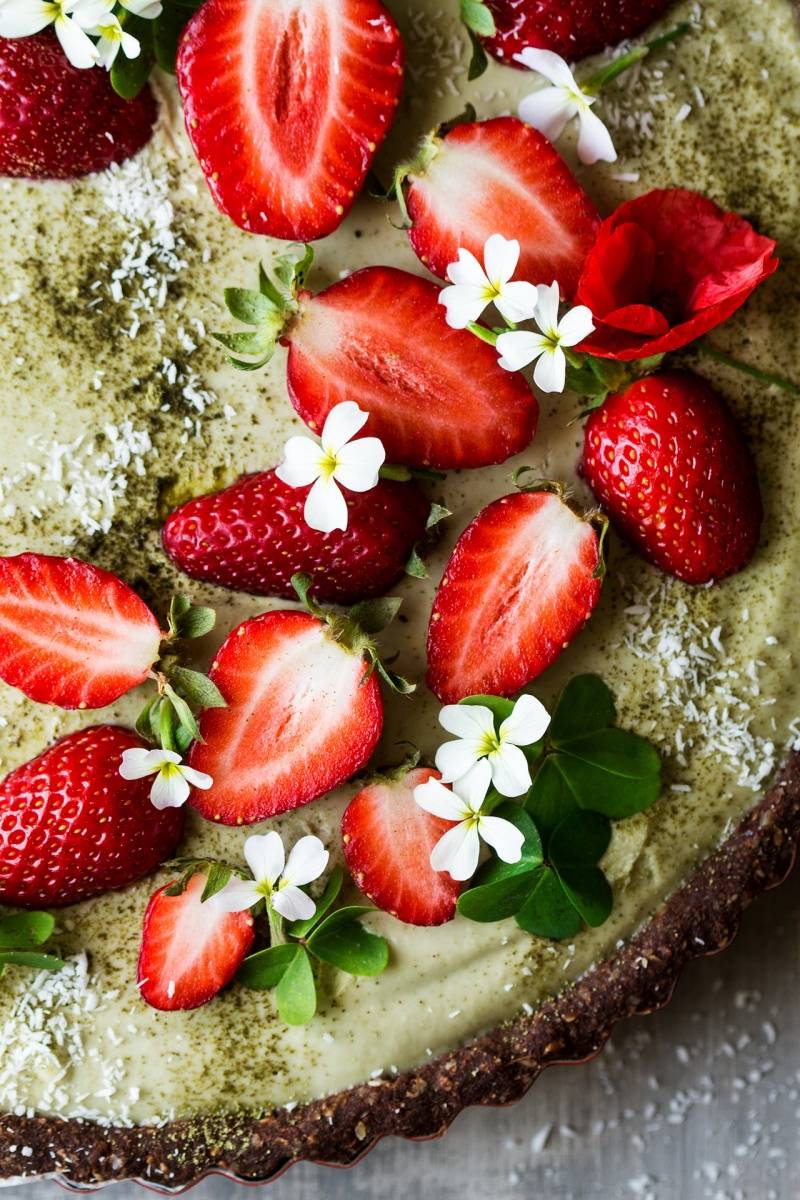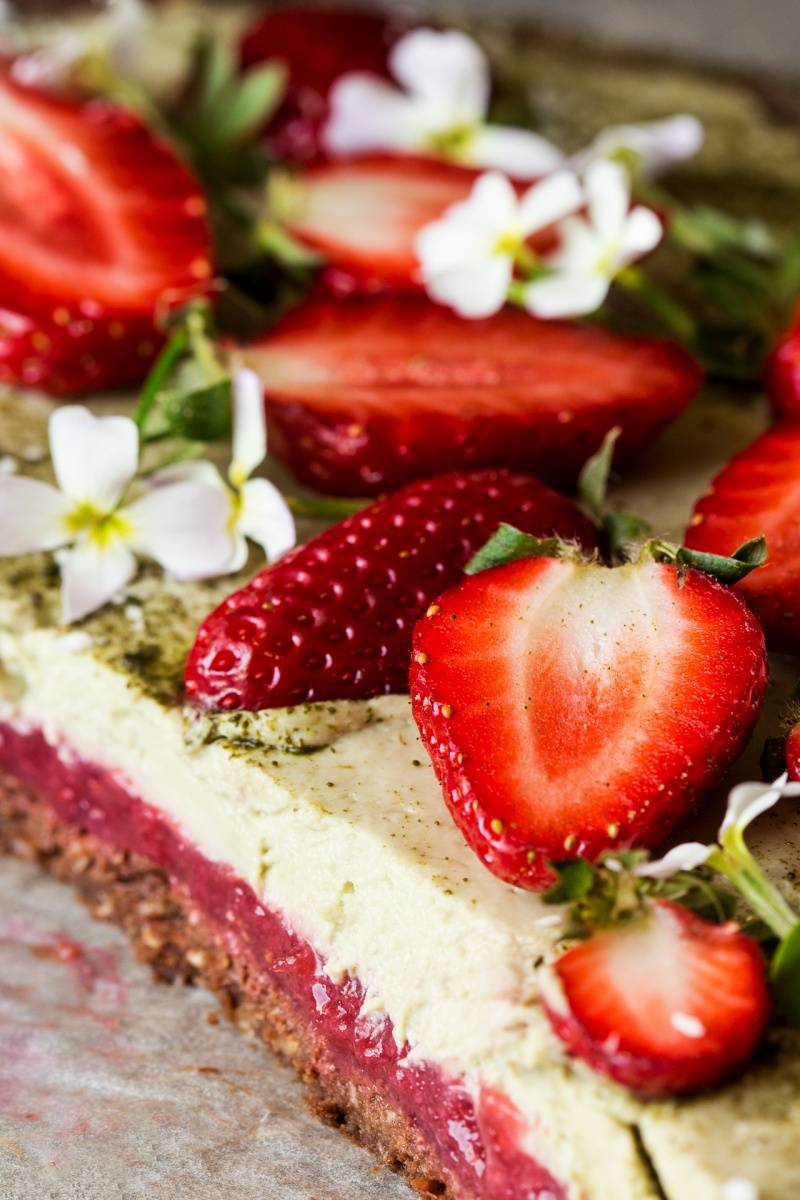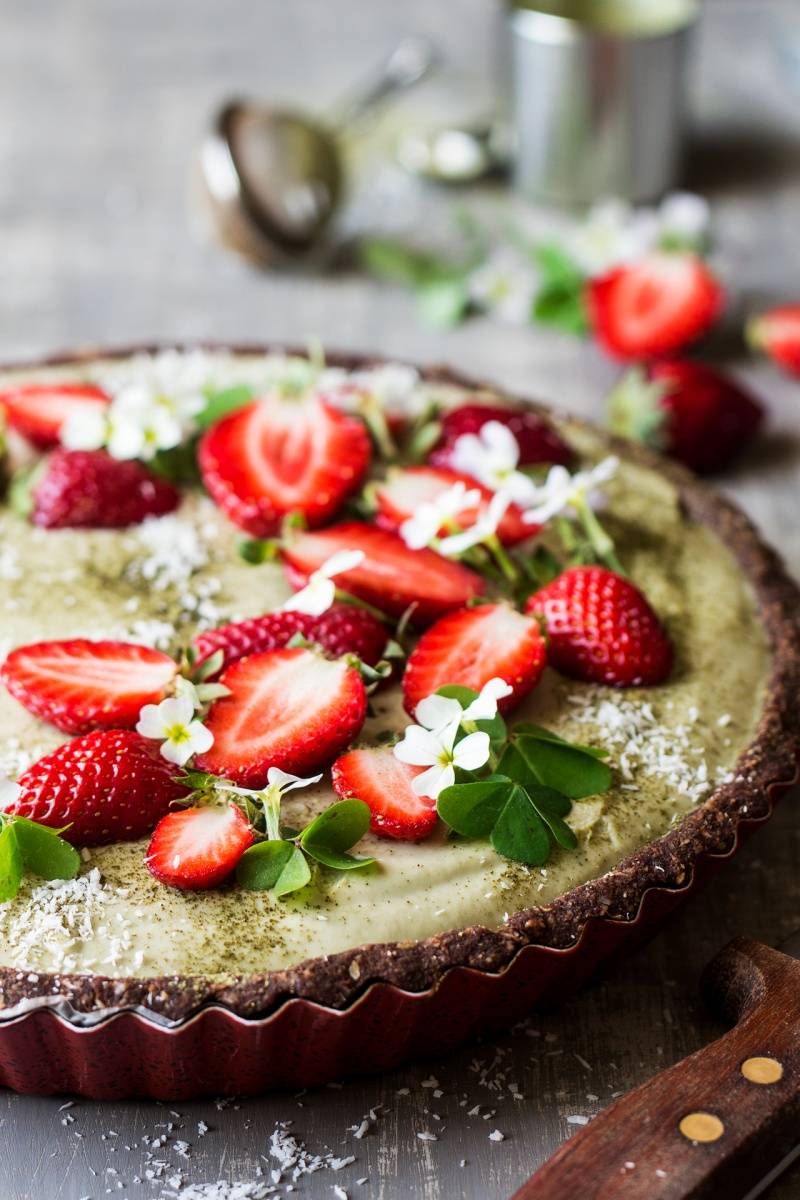 ---
Ingredients:
Base:
150 g / 1 cup dried dates, halved and pitted
140 g / 1 cup almonds*
90 g / 1 cup rolled oats (GF certified if required)
3 tbsp cacao powder
¼ tsp fine sea salt
1 tbsp coconut oil, melted
Strawberry layer:
1½ cups pureed strawberries
(about 350-400 g / 12-14 oz
fresh strawberries)
3 tsp agar flakes (approx. 1
tsp agar powder)

Matcha Layer:
110 g / ¾ cup raw cashews, soaked overnight
360 ml / 1½ cups coconut cream
(separated from full-fat coconut milk)
3 tsp matcha powder
4-5 tbsp maple syrup, adjust to taste
2¼ tsp agar flakes OR
¾ tsp agar powder
Decoration (optional)
edible flowers
coconut shavings
fresh strawberries
Instructions:
Place pitted dates in a small bowl and cover with boiling water. Leave them for 10 minutes to soften.
Place almonds and oats in a food processor and grind them both into flour. If you don't have a powerful food processor, you may want to grind them separately or else you may end up with large almond chunks, which will affect the quality of the base. Transfer
ground almonds and oats to a large bowl. Add cacao and salt and mix well.
Squeeze excess moisture out of the dates and place them into the food processor. Process until you get a smooth, sticky mixture. Add them to the dry ingredients and knead by hand until you get a uniform dough.
Finally, add melted coconut oil.
Line a tart tin with a piece of baking paper and line the tin with the dough you've just made. Make sure you press it really well so that it's compacted and holds together well. Pop into the freezer for 10 minutes.
Strawberry layer:
If you want to save some time or / and you want this tart to be almost raw, slice strawberries and layer them (in multiple layers) at the bottom of the set base.
If you would rather make strawberry jelly, place destemmed strawberries in a blender and puree until smooth.
In a small pot, place the agar flakes and about ¼ cup of water. Bring to the boil and simmer gently for 10-15 minutes stirring the whole time until the agar turns into thick, lightly opaque jelly.
Once agar has been activated (turned into jelly), add it to the pureed strawberries and blend them together well, scraping the walls of the blender as needed.
Quickly pour the strawberry jelly onto the base of the tart as the agar thickens really quickly. Set aside to set (takes about 30 min).
Matcha layer:
Place drained cashews, coconut cream, matcha powder and maple syrup in a blender. If you don't have a power blender, I recommend chopping the cashews up first to get a smoother finish.
Place the agar flakes in a small pot with ¼ cup (4 tbsp water) and bring to a gentle boil. Simmer, stirring frequently, for about 15 minutes until agar has ALMOST dissolved (I find that the flakes never dissolve completely no matter how long I stir). Cool it down a little so that it isn't added to the rest of the ingredients when it is piping hot.
Add warm agar mixture to the blender and process until smooth, scraping the walls of the blender from time to time. Once smooth, divide the mixture between two pastry cases. Set aside to set – it should set in about 30 minutes.
Decorate and cut into slices. Store in the fridge and consume within 2-3 days. It freezes well.


Notes

*If you make your own almond milk, this is the perfect recipe to use almond pulp in. Spread damp almond pulp on a baking tray and dry it out in the sun or in a 75° C / 165° F degree oven before incorporating into the crust.

The exact dimension of my tart tin are top: 25 cm / 10 inches , bottom 22 cm / 8.5 inches and side 3.5 cm / 1.4 inches.
        This recipe is made by Ania from Lazy Cat Kitchen
       
This recipe is a part of our "Top 10 Dessert Recipes with Matcha" that can be downloaded here.