This cute little matcha cheesecake is a wonderful snack for everyone top with ganache, coconut whipped cream and sprinkled with matcha powder.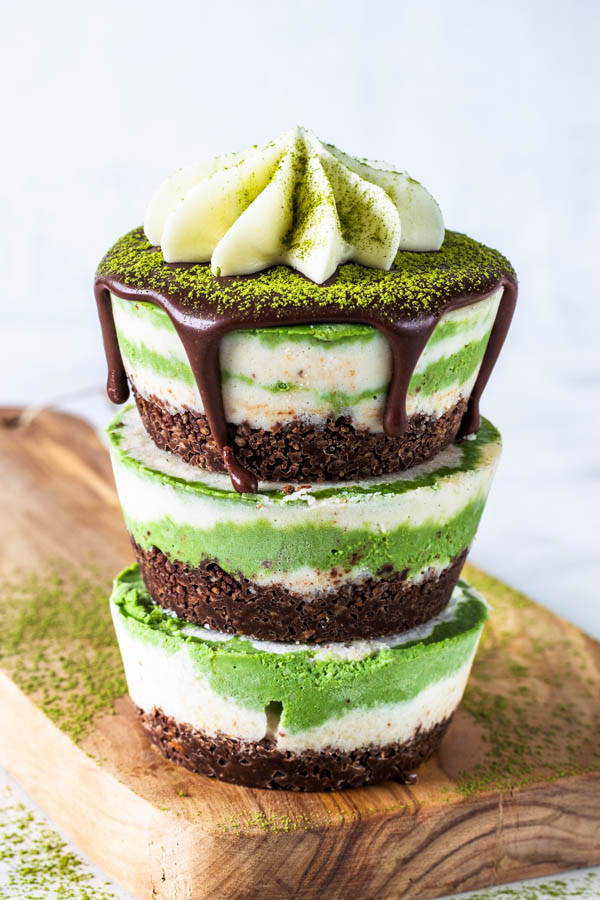 ---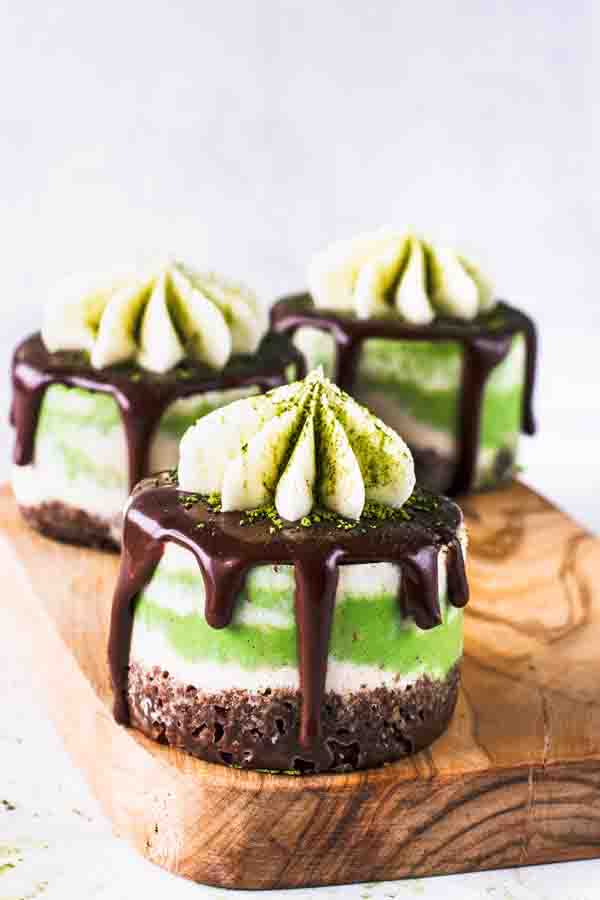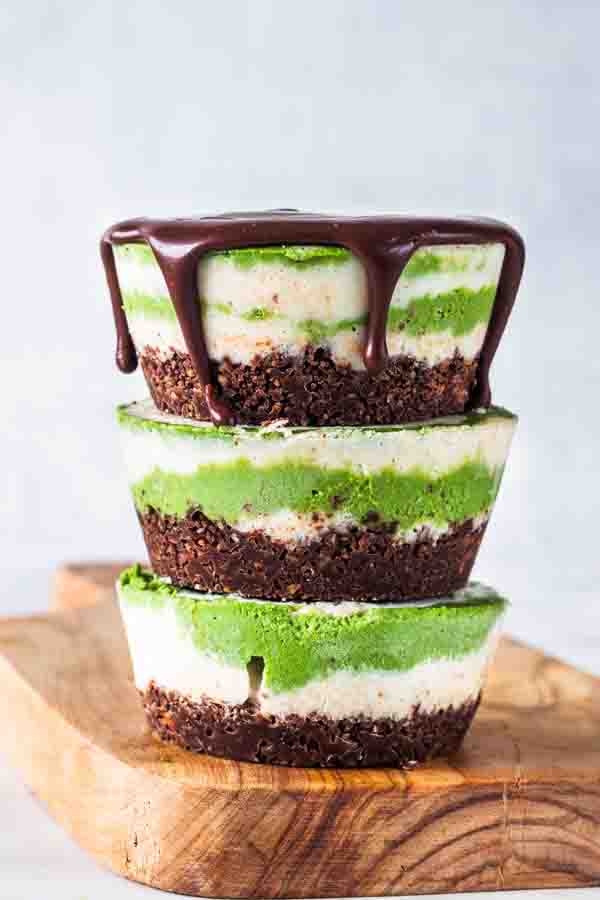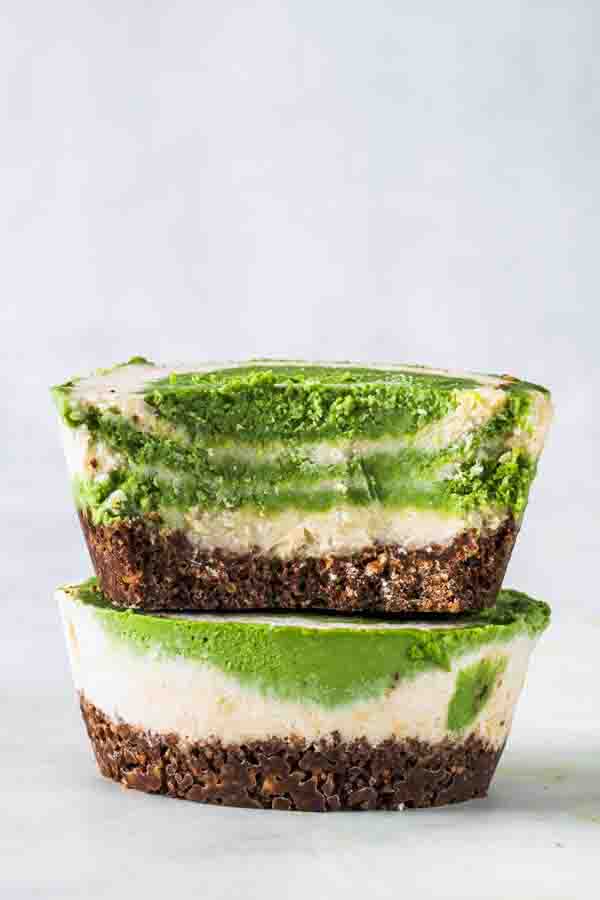 ---
Ingredients:
Chocolate Crust:
1 1/4 cup oat flour (sub almond flour for paleo) 150 grams, 5.29 oz
1/2 cup almond flour 48 grams, 1.7 oz
1/2 cup coconut sugar 75 grams, 2.6 oz
1/2 cup unsweetened cocoa powder 40 grams, 1.4 oz
1 teaspoon baking powder
1/4 teaspoon fine sea salt
1/2 cup coconut oil melted
1/4 cup nut milk
2 teaspoons vanilla extract
Zebra Matcha Cheesecake:
1/2 cup coconut oil melted
1/2 cup full-fat coconut milk
1/4 cup lemon juice freshly squeezed
1/2 cup maple syrup
2 cups raw cashews
1 teaspoon vanilla extract
1 tablespoon matcha powder
Vegan Ganache:
1/2 cup chocolate chips 87.5 grams, 3 oz
1/2 cup full-fat coconut cream
Coconut Whipped Cream:
1/2 cup full-fat coconut cream, cold
Instructions:
Mix all ingredients together in a bowl. Mixture will become a wet dough. Wrap it and put it in the fridge to rest for 30 minutes.
Remove dough from the fridge and cut it in half, to make it easier to handle.
You can use a bit of almond flour to dust the counter so the dough doesn't stick, or roll the dough out over a silicone mat, or some wax paper.
Roll it to about 1/2 inch thick.
Cut circles that will be the same diameter as the bottom of the pan you will use. If using a large cheesecake pan, you can just roll out the entire dough and press it onto the bottom of the pan.
Line bottom of the pans with the dough.
Pre-heat oven to 350F.
Place pans with the dough in the fridge or freezer while you wait for the oven to heat, this way, the fat in the cookie dough will be solid before entering the oven.
Now, you can bake the crust. For smaller pans, you will need less time, anywhere from 5-10 minutes. For a large pan you might need up to 15 minutes to bake it. You also don't want to overbake it and end up with a hard bottom for your cheesecake. Bake until just set, which shouldn't take long at all.
Remove from the oven, set aside to cool.
Zebra Matcha Cheesecake
Start the night before, or a few hours prior.
If starting the night before, simply soak the cashews in some room temperature water and let them sit on the counter soaking overnight.
If starting a few hours before, soak cashews in hot water for at least 1 hour.
Drain cashews.
Place all ingredients except for the matcha powder in a food processor.
Process for a few minutes. I like my cheesecake very creamy so I process mine for about 4 minutes. It will depend on how powerful your food processor is.
You might want to scrape the bowl of the food processor in between blending.
Now, divide the cheesecake batter in two. Set one half aside.
Leave the other half of the batter in the food processor and add the matcha powder to it. Process until combined.
To assemble
Spoon some of the white cheesecake batter on the bottom of the crust.
Right on top of it, in the middle, spoon some of the green matcha cheesecake batter.
Now repeat, alternating colors until you reach the top of the pan. You can use the pictures in the post above as reference.
Tap the pans against the counter to even out and smooth the top of the cheesecakes.
Place in the freezer overnight.
    Ganache
To make the ganache, simply heat the coconut milk until almost a boil.
Pour over chocolate chips. Stir until everything is melted.
If necessary, place it in the microwave at 5 second intervals until all the chocolate is melted, and the ganache is smooth.
If ganache is grainy and separating, you can add a teaspoon of co-conut oil to it, to try to smooth it out.
Let ganache come to room temperature before spooning or piping over cheesecakes.
Coconut Whipped Cream
Right before serving, whip the coconut cream with a mixer until stiff peaks form. Make sure your coconut cream is very cold from the fridge.
After spooning the ganache over the cheesecake, let it set in the freezer. When solid, you can pipe the coconut whipped cream over it. Sprinkle some matcha powder right before serving.
Storage
Cheesecake will keep in the freezer for up to 1 week.
        This recipe is made by Camila from Pies & Tacos
This recipe is a part of our "Top 10 Dessert Recipes with Matcha" that can be downloaded here.