This matcha chocolate mousse cake has a good balance between bitterness and sweetness. A flourless chocolate cake and topped with white chocolate and matcha mousse.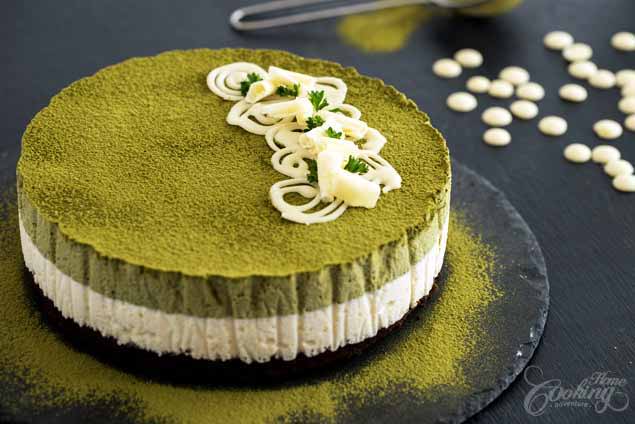 ---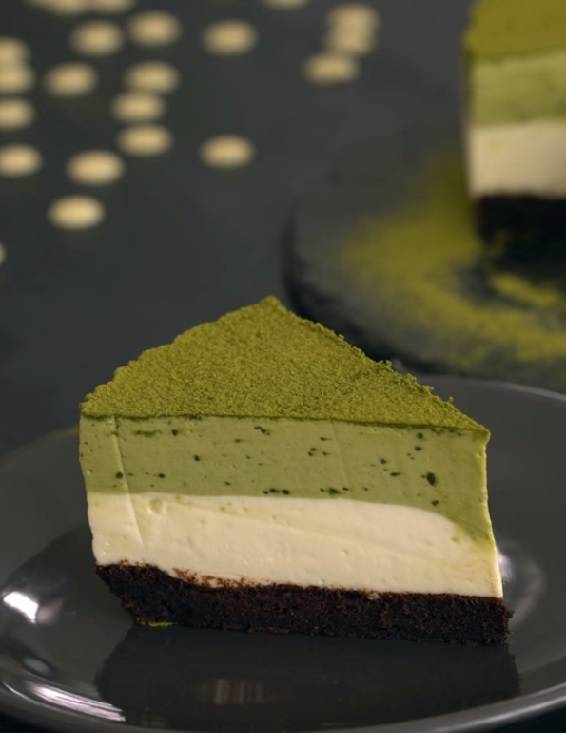 ---
Ingredients:
Makes about 8-10 servings

Flourless Chocolate Cake:
5 tbsp (70g) butter
3.5 oz (100g) semisweet chocolate
2 eggs, separated
1/3 cup (70g) sugar
1 tbsp (8g) unsweetened cocoa powder
1/4 tsp (1g) of salt

For Mousse:
10 oz (300g) white chocolate, cut in small pieces
1 cup (240g) whipping cream
14 oz (400g) whipping cream (35% fat), chilled, divided in two
1 tbsp (10g) gelatin powder
1/4 cup (60ml) cold water
2 tbsp (12g) matcha powder
2 tbsp (30 ml) hot water
Instructions:
Prepare flourless chocolate cake. Grease and line a 8-inch (20 cm) spring-form pan (with a removable base) with parchment paper. Separate egg yolks from whites. Preheat oven to 180°C (350°F).
Melt chocolate and butter over a bain-marie until smooth. Let it cool slightly. Add yolks one at a time and stir well. Stir in cocoa powder and salt.
Whip egg whites until foamy using a mixer. Gradually add sugar and whip until stiff peaks form. Gently fold the whipped whites into chocolate mixture.
Pour batter into prepared pan and bake for 20-22 minutes. Let it cool completely in the pan over a cooling rack.
Prepare the two layers of mousse. In a heat proof bowl add the white chocolate and 1 cup (240g) whipping cream. Place the bowl over a saucepan with simmering water, over low heat until all the chocolate is melted. Meanwhile dissolve gelatin in cold water and let it swell for about 5 to 10 minutes. Place the gelatin over low heat just until the gelatin dissolves and pour it over the melted chocolate mixture. Divide the mixture in two.
Dissolve matcha powder in hot water and add to half of white chocolate mixture. Let both chocolate mixtures cool completely at room temperature.
Whip 7oz (200g) chilled whipping cream until stiff peaks form. Add white melted chocolate mixture and mix until well combined.
Pour the white chocolate mousse over the flourless chocolate cake. Refrigerate for about 20 minutes.
Whip the remaining 7 oz (200g) chilled whipping cream until stiff peaks form. Add matcha chocolate mixture and mix until well combined.
Pour matcha mousse over the white chocolate mousse. Refrigerate for 4-6 hours to set or overnight.
Before serving dust the top with matcha powder and decorate with white chocolate decorations if desired. Enjoy!
          This recipe is made by Home Cooking Adventure
         
This recipe is a part of our "Top 10 Cake Recipes with Matcha" that can be downloaded here.