This matcha soba salad is also great for green lovers. It is mixed with the matcha soba noodles, vegetables, cilantro, dressing, and fresh peas.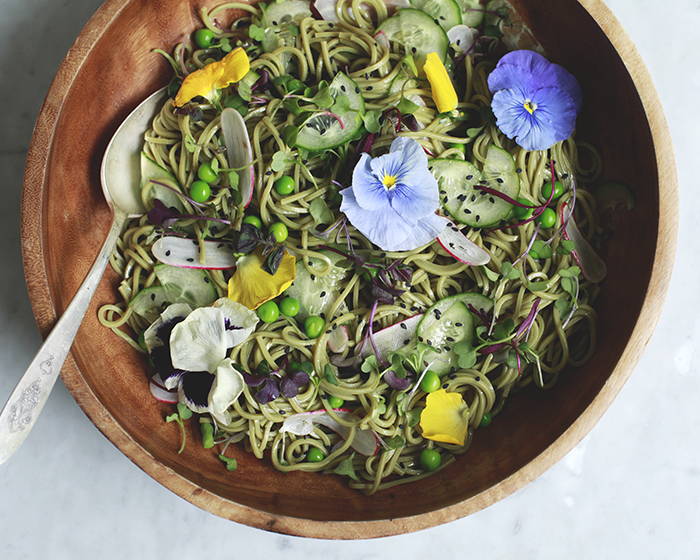 ---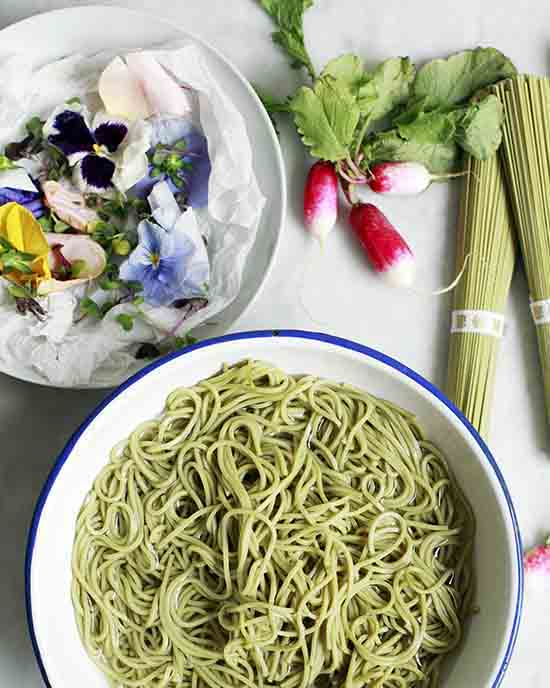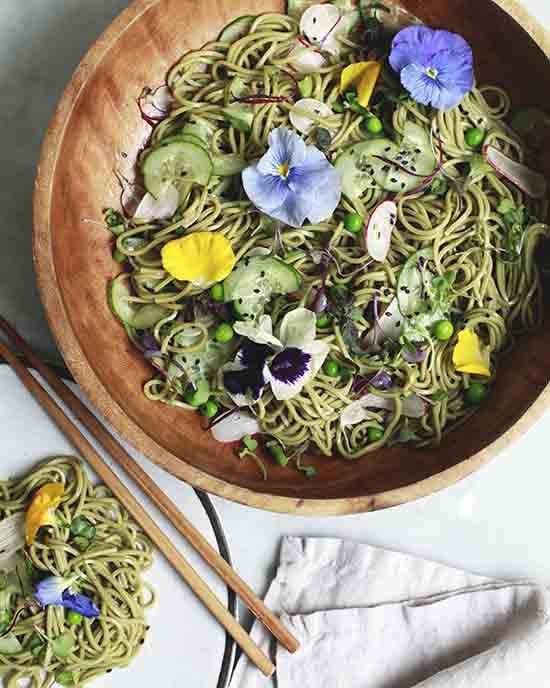 ---
Ingredients:
10 ounces matcha soba noodles, or regular soba noodles
1 bunch breakfast radish, shaved or thinly sliced
1 medium cucumber, shaved or thinly sliced
1 cup shucked or frozen peas, lightly blanched
1/2 cup cilantro leaves, finely chopped
1/4 cup black sesame seeds
Microgreens, for garnish
Edible flowers, for garnish
For the dressing:
1/3 cup rice vinegar
2 tablespoons vegetable oil
2 tablespoons tamari or soy sauce
1 tablespoon toasted sesame oil
1 tablespoon honey or agave nectar
1 tablespoon lime juice
1 garlic clove, minced
Instructions:
Fill a large bowl with ice water. In a medium saucepan, bring well-salted water to a boil. Drop the noodles and cook them for 2-4 minutes, until tender. Transfer the noodles to the ice bath to stop the cooking. Drain in a colander, then set aside.
If using fresh peas, shuck and quickly blanch for just 1 minute, in another saucepan with well-salted boiling water. If using frozen peas, steam until just tender. Drain in a colander and set aside to let cool.    
To make the dressing, combine the vinegar, vegetable oil, soy sauce, sesame oil, honey, lime juice, and garlic in a bowl, and whisk to combine.  
Compile the salad by mixing the matcha soba noodles, vegetables, cilantro, dressing, and sesame seeds, saving some of the latter to garnish. Season to taste. Once satisfied, top it all off with more sesame seeds, a handful of microgreens, and some edible flowers.
          This recipe is from The Jewels of New York


This recipe is a part of our "Top 10 Vegan Recipes with Matcha" that can be downloaded here.