These are healthy marshmallows that you can have. Best serve with hot chocolate.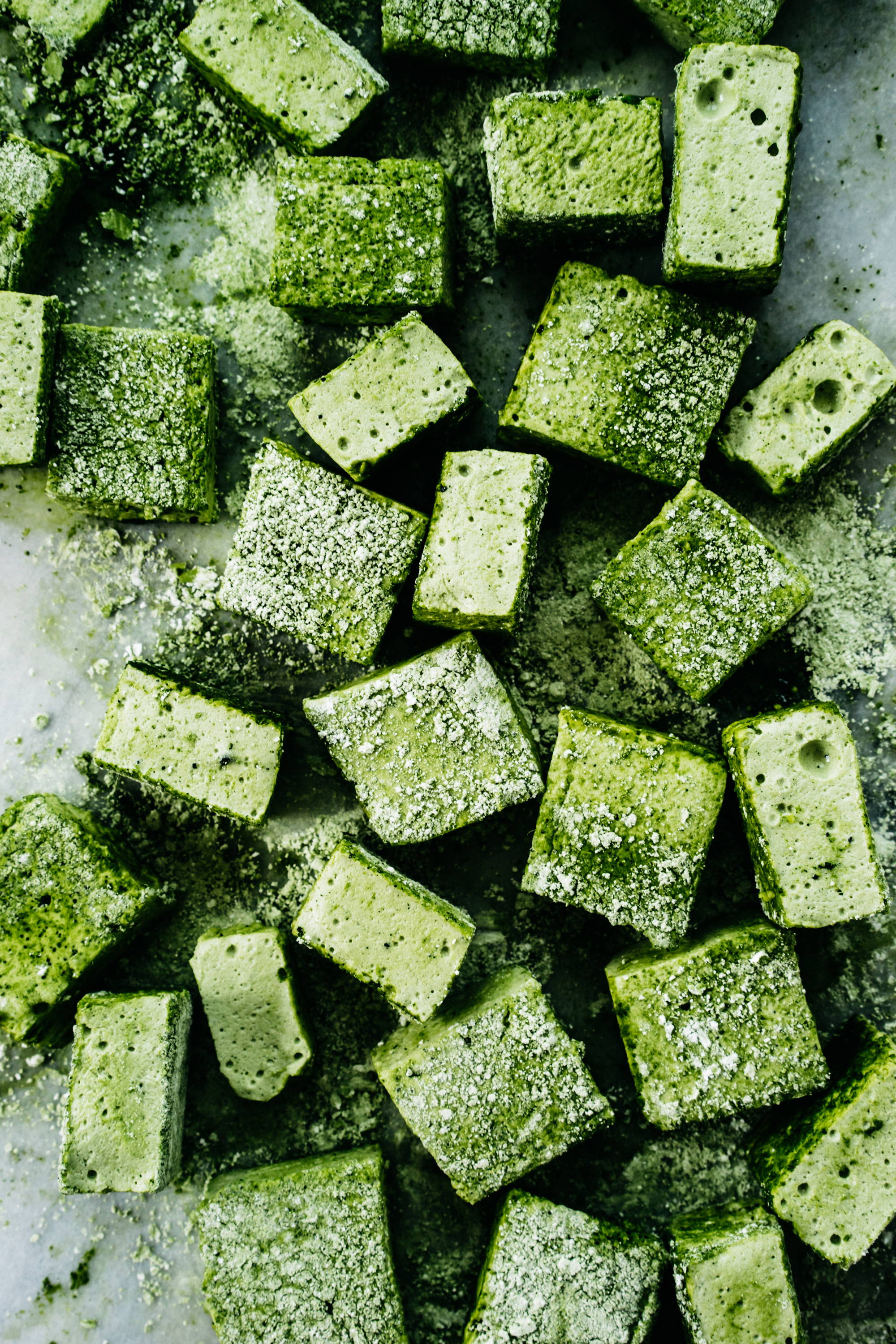 Ingredients:
Makes 16 large or 64 small marshmallows
1/4 cup powdered sugar
1/4 cup cornstarch
3/4 cup water (divided)
1 teaspoon orange blossom water
1 teaspoon vanilla extract
1 1/2 tablespoons matcha (divided)
2 envelopes unflavored gelatin
3/4 cup sugar
1/2 cup light corn syrup
1/8 teaspoon kosher salt
Instructions:
In a small bowl, sift together the powdered sugar, cornstarch and 1/2 tablespoon matcha. Coat an 8×8-inch baking dish with cooking spray and dust the bottom and sides with half of the powdered sugar mixture. Pour any excess mixture back into the bowl.
In a stand mixer fitted with the whisk attachment combine 1/2 cup of the water, the orange blossom water, vanilla and remaining 1 tablespoon matcha. Sprinkle the gelatin over the liquid.
In a small saucepan, stir together the sugar, corn syrup, salt and remaining 1/4 cup water. Clip on a candy thermometer. Heat the mixture over medium-high heat until it reaches 240 degrees F, then immediately remove it from the heat and bring it over to the mixer.
Turn the mixer on low and drizzle the corn syrup mixture in a slow and steady stream down the side of the bowl. Once the entire mixture is in, gradually increase the speed to high and let it mix for 7-10 minutes total, until lukewarm and fluffy. While the mixer is running, grease a rubber spatula and have that standing by the mixer, as well as the prepared pan.
Using your greased spatula, immediately scrape the mixture into your pan and spread it out evenly as best you can with the spatula. Dust the top with about half of the remaining powdered sugar mixture and then, if needed, you can use your hands to further flatten and even out the mixture. Let sit for 1 hour. Cut into squares and dust the edges of the squares with the remaining powdered sugar mixture. Serve with hot chocolate.
          This recipe is made by Molly Yeh
This recipe is a part of our "Top 10 Snack Recipes with Matcha" that can be downloaded here.