It's a treasure to have these matcha macarons, a lovable snack for all. These European macarons have a crispy shell with a creamy filling and a balanced matcha flavor that complements the almond flour base. Perfect gluten free snack option any time, any place!
---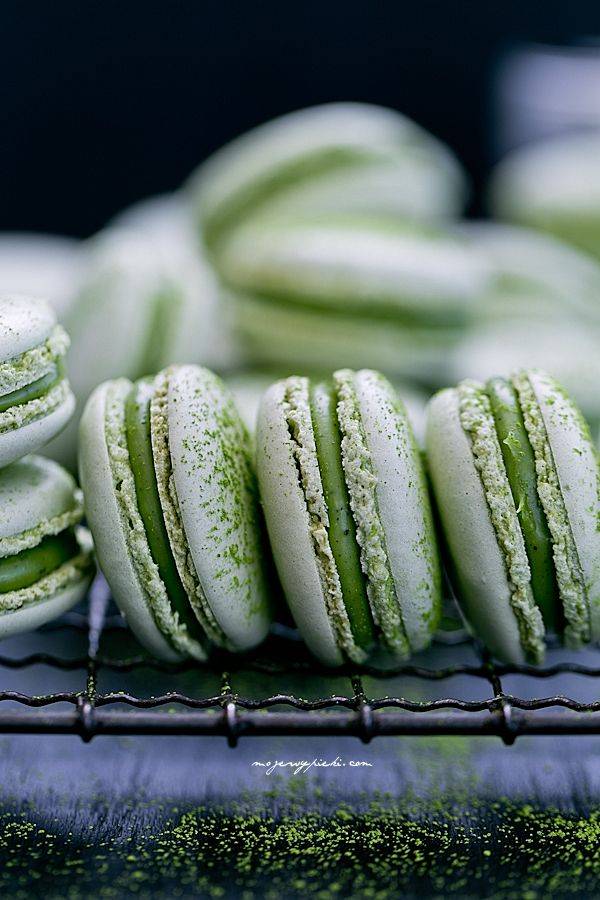 ---
Ingredients:


Servings: 40 mini-macarons
150 g of ground almonds
150 g of powdered sugar
120 g of proteins (divided into 60 g + 60 g), at room temperature
185 g of sugar (divided into 150 g + 35 g)
50 ml of water
dye in paste / gel - I used Wilton dye in a cup (color moss green - moss color)

Matcha chocolate cream:
100 ml of cream fondant 30% or 36%
240 g of white chocolate, chopped
1 spoon of matcha tea
Instructions:


Add almonds and powdered sugar in the blender. Mix to connect for about 2 minutes. Sieve through a very fine sieve into a larger dish, removing any larger pieces of almonds (in this place add new, finer pieces, usually about 1 teaspoon). Add 60 g of proteins, mix thoroughly. Add any amount of dye, mix (note: the color should be intense, proteins added later thin the color).
Put an additional 60 g of proteins in the bowl of the mixer (the bowl should be dry, without any traces of fat, proteins perfectly separated from the yolks). Place 35 g of sugar in a small cup next to it.
Place 150 g of sugar and 50 ml of water in a small pot. Mix, boil. Put a confectionery thermometer in the pot and cook on medium power of the burner (important: not stirring even once!) To reach the temperature of 118ºC (245ºF).
In the meantime, when the syrup reaches the temperature of 100ºC (210ºF), start to whip the proteins. Whip the whites as for meringues - to stiffness, at the end of mixing, sprinkle sugar, teaspoon on a teaspoon, mixing all the time. When the syrup reaches the required temperature, immediately remove it from the burner and slowly pour a thin syrup of sugar syrup into the whipped proteins (beat for now at low speed - only when pouring sugar syrup, so that it is not on the walls of the bowl, but in the proteins themselves, then turn we increase to the maximum), without stopping mixing. Mix for 5 - 8 minutes to cool the meringue.
Add the prepared Italian meringue to the prepared almond mass, in three turns, mixing thoroughly. The mass will be less frequent with every confusion, and as a result it should fall freely from the spatula in the form of a thick, shiny ribbon. Note: too long mixed mass can
cause macaroons to spill on the mat; too short - the dough will be too thick. This is the most difficult stage in the performance of macaroons on an Italian meringue .
Baking the baking tray with a teflon mat or unmainted baking paper (at least 3 plates will be needed). Finished macaroon cake put into a confectionery sleeve with a round cup. Holding the slat perpendicular to the plate, squeeze macaroons about 3 cm in diameter on the plate (mini - macaroons about 2 cm), leaving large intervals between them. After squeezing, leave the macaroons to dry - they should not stick to the touch, and a thin shell should form on their surface. This process depends on the humidity of the air and can last from 20 - 60 minutes (for me 60 minutes). The drying time should not be extended 'just in case', because the shell of macaroons will be too thick.
Bake at a temperature of 150 - 160ºC with hot air for about 12 - 15 minutes (smaller macaroons bake shorter, longer).
Macaroons should not turn brown. If this happens, the temperature should be reduced and the baking time extended. When baked, remove from the oven, leave on the mat or baking paper until it has completely cooled down .
Finished macaroons pull gently from the tin, translate chocolate cream with matcha tea squeezed from the confectionery sleeve ended with a round cup.
Matcha Chocolate Cream: Put fondant cream in a pot. Heat almost to boiling, remove from the burner. Add matcha tea and chopped chocolate, leave for 2 minutes. After this time, mix to a
joint and create a smooth mass, if necessary, can be wiped through a sieve. Set aside in the fridge to ensure that the cream does not become too hard (it will be too hard to put on and will need to be reheated in a water bath or microwave, but it should be sufficiently steady so that it does not run out of macaroons after transfer).
Storage : Macarons without filling can be stored up to 7 days in an airtight container or up to 2 days in a refrigerator, you can also freeze up to 1 month. After placing the filling, keep them in the fridge - the best are the next day after the cream.
          This recipe is made by Dorota Świątkowska from Moje Wypieki
This recipe is a part of our "Top 10 Snack Recipes with Matcha" that can be downloaded here.