These little cookies are fantastic to serve at any gathering. It's a little bit tricky but the reward is satisfying and delicious.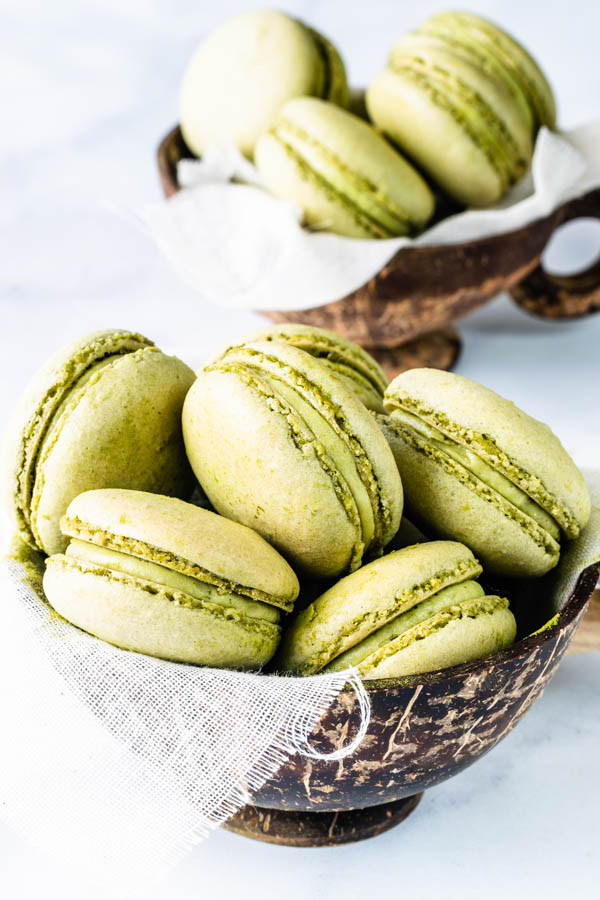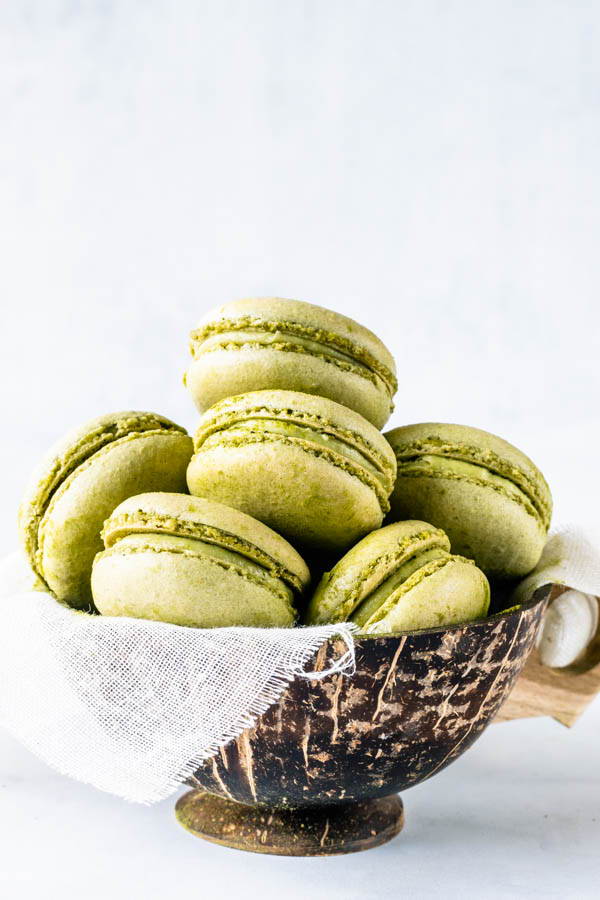 ---
Ingredients:
Matcha Macarons:
3 egg whites (90-120 grams, depends on the size of your egg)
1/2 cup white granulated sugar (100 grams)
1 cup almond flour (96 grams)
3/4 cup powdered sugar (90 grams)
1/2 tablespoon matcha powder
Matcha Buttercream:
1/2 cup butter
1 cup powdered sugar
1 teaspoon of matcha powder or more, it's up to how strong you'd like your buttercream
1 teaspoon vanilla extract
Instructions:
Before you start, get all of your ingredients ready.
Prepare a large piping bag, fitted with a large round tip.
Line two baking sheets with parchment paper or a silicone mat.
Under my parchment, I put a layout with circles that measure about 1 1/2 inches each. That's how big I like to pipe my macarons.
Measure out all of your ingredients.
Now you can finally start. Place egg whites and granulated sugar in a heatproof bowl or in a double boiler. Over a pan of simmering water, whisk the whites and sugar until frothy and sugar completely melted. It will take a couple of minutes.
Make sure the bottom of the bowl isn't touching the simmering water.
Transfer mixture to the bowl of a stand mixer. (I use my Kitchen Aid bowl when doing this because it makes it easier)
With the whisk attachment, whisk mixture on high speed for a few minutes until stiff peaks are formed.
The best way to check this is to keep your eye on the whites. Once they get glossy and you start seeing streaks formed by the whisk, it might be time to stop. You don't want to over beat the mixture at this point, because you don't want to add too much air to it. Just whisk until stiff peaks have formed.
Sift powdered sugar, almond flour, and matcha together.
Pour into stiff whites.
Start folding gently forming a letter J with a spatula.
It's time to stop folding when the batter is glossy and has a thick and flowing consistency. There are several ways to test this, and you might have to have a couple of failed batches before you get this right.
First, grab a spatula full of batter and pull it up at a 90-degree angle on top of the bowl, then you start drawing a figure 8 in the air with the dripping batter. And if you can draw a few number 8's with the flowing batter, without having it break apart, that means your batter is probably ready or close to being ready.
Then, I grab a teaspoon of batter and spoon onto my parchment paper or silicone mat.
If the batter stays stiff and doesn't spread out a bit, I start folding a little bit more, about 3 folds.
Test again.
Once the batter spreads out a bit and starts to look glossy on the parchment paper, I transfer my mixture to the piping bag.
You don't want your batter to be too runny either. So be careful not to over mix. It's always best to under mix and test several times until the proper consistency has been achieved.
This is the most important part of making macarons in my opinion.
Once you've piped as many 1 1/2" circles as you could, bang the trays against the counter a few times each. This will release air bubbles that are in the batter and prevent your macaron shells from cracking.
Let your trays sit for a while so the shells will dry out a little bit. I usually leave about 20-40 minutes, depending on how humid the day is.
You'll know they're ready when you gently touch the surface of a macaron and it seems dry.
Pre-heat the oven to 325F.
Bake one tray at a time.
Bake for 4 minutes rotate the tray.
Bake for 4 more minutes, check if it needs to be rotated again. You will know if it needs to be rotated again depending on how the macarons are baking. Take a look at them, if one side seems taller then the other, maybe you have to rotate the tray again.
Bake for around 2-4 more minutes. Really keep an eye out, not to over bake.
When baked, the macarons will have a deeper color and formed feet.
Remove from the oven and bake the other tray.
Let the macarons cool down before proceeding with the filling.
Matcha Buttercream:
While the macarons cool down, you can make the filling.
Sift powdered sugar and matcha powder together. Set aside.
Cream butter on medium speed, until creamy, for about 1 minute. Add powdered sugar and matcha and beat until mixture is fluffy and incorporated another minute. If the mixture seems too stiff, add one or two teaspoons of milk. If it seems too runny, add one or two teaspoons of powdered sugar.
Add vanilla extract and mix for 30 seconds to combine.
To assemble: Put filling in a prepared piping bag. Pipe a dollop in each macaron and close the sandwich. You are looking for the proportions of 2:1 cookie: filling.

This recipe is made by Camila Hurst from Pies and Tacos
This recipe is a part of our "Top 10 Recipes with Starter Matcha" that can be downloaded here.