Believe it or not, this is the exciting dessert you in summer you ever have where gorgeous berries easily popped out. It tastes divine and inspiring.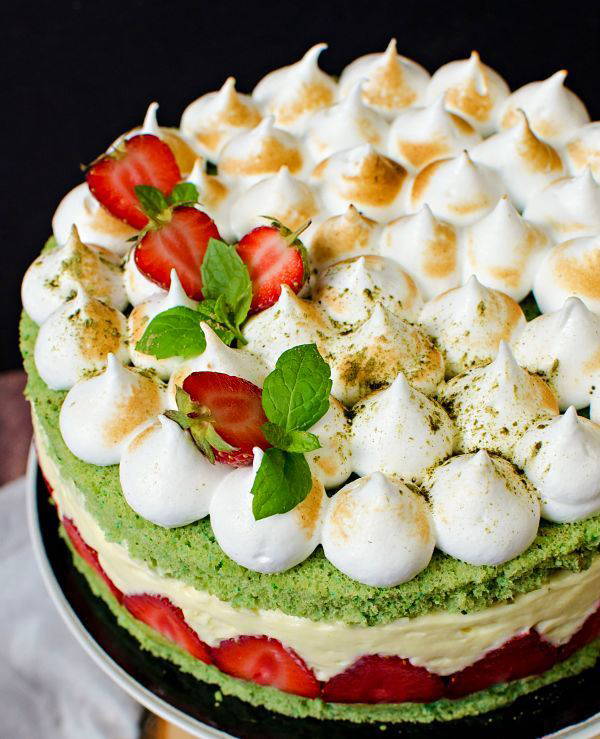 ---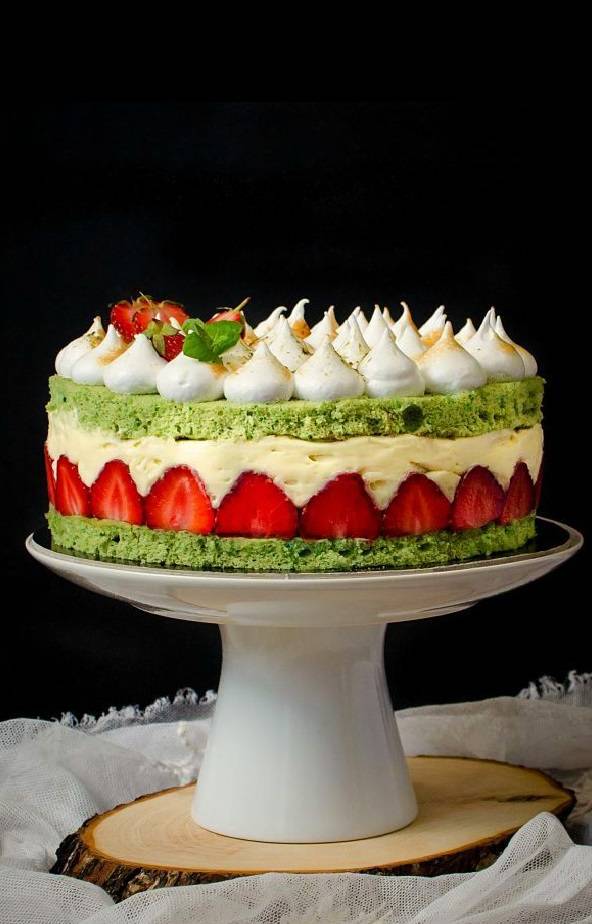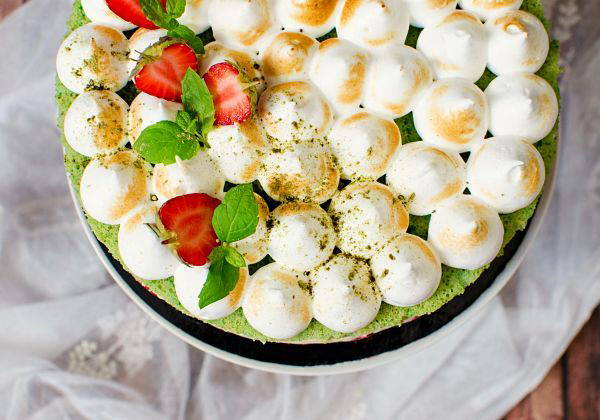 ---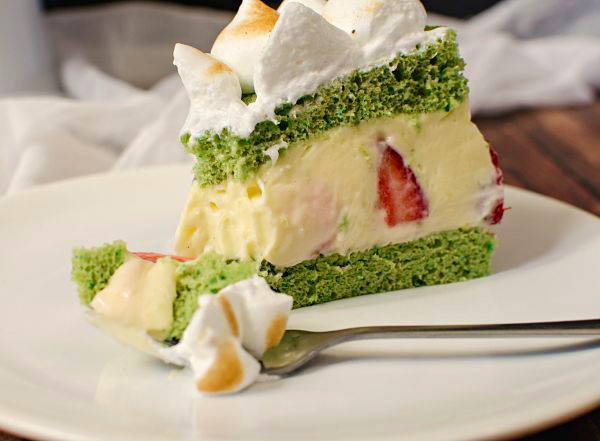 ---
Ingredients:
Matcha sponge cake:
4 eggs
40ml vegetable oil
1 teaspoon vanilla extract
100g white sugar
80g all-purpose flour, sifted
20g cornstarch
1 tablespoon matcha powder
1 pinch salt
1 drop green food coloring (optional)

Citrus Mousseline cream:
300 ml whole milk
2 lime rinds
2 mandarin rinds
3 egg yolks
100 g white sugar
30 g cornstarch
1 pinch salt
20 g butter
4 g gelatin + 20 ml cold water
200 ml heavy cream, whipped
1 teaspoon vanilla extract

Citrus syrup:
80 g white sugar
120 ml water
1 lime rind
1 mandarin rind
Swiss meringue:
2 egg whites
100 g white sugar
1 pinch salt
1 teaspoon vanilla extract
You will also need about 1½ pounds fresh strawberries
Introduction:
Green Tea Powder Top:
Flour salt with salt, tea powder and starch.
Separate eggs. Mix yolks with oil and vanilla.
Mix the whites until they become sparkling. Add the sugar gradually and mix until you get a firm and shiny mash. If you use dye, now is the time to add it.
Incorporate the yolks then gradually add flour and gently mix with a spatula.
Pour the dough into a tray of 18-20 cm diameter and bake the preheated oven at 180°C for about 25 minutes or until the toothpick test passes.
Allow to cool in the tray then cut the counter in half, getting two equal discs.
Citrus Mousseline Cream:
Heat the milk in a bowl. Add the citrus peel and take off the fire. Allow to infuse for 10 minutes, then remove the bark and put on the fire again.
Hydrate gelatin in cold water.
In a bowl, mix the yolks with sugar and salt, add the starch and mix thoroughly.
Pour the milk over the yolks in a thin wire and then put it on the fire again.
Cook until thick.
Take the heat and add the butter, then the gelatin.
Cover with foil and let it cool completely.
Mix the vanilla cream until it is creamy.
Incorporate sour cream.
Citrus syrup:
Combine the ingredients in a bowl and cook for 2-3 minutes on low / medium heat.
Remove the citrus peel and let it cool completely.
To assemble the cake:
Assemble a countertop in a cake ring with acetate foil.
Easily nest the table top with a brush moistened with syrup.
Place strawberries on the edge of the table so that the cut is exposed to the edge of the cake.
Put a few tablespoons of cream in the center to put strawberries in place, then continue to put strawberries until you fill the center.
Cover with the rest of the cream then place on top of the second top plate.
Easily nest and cool for a few hours.
Bezea elvetiana:
Combine the ingredients in a bowl and put on the steam bath.
Cook until it reaches 65C and then take the heat and mix for a few minutes until you get a firm and shiny mash.
Cover the marty cake and lightly caramelize with a cake.
Decorate with fruits and mint leaves.
        This recipe is made by Olguta Oana from Pastry Workshop
This recipe is a part of our "Top 10 Cake Recipes with Matcha" that can be downloaded here.