Added with adzuki beans, sprinkled with osmanthus flowers and overlay with almonds, and tadaa you have your lovely matcha cake.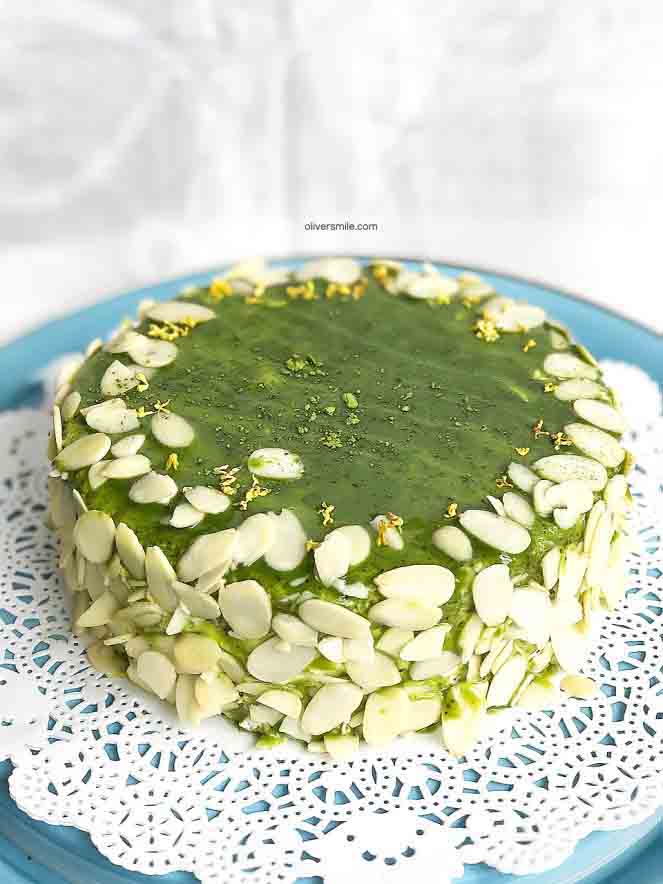 ---
Ingredients:
To make the cake:
70g Pastry flour (I used All purpose flour)
10g Corn flour
10g Matcha powder
15g Unsalted butter
30g Milk
3 Eggs
1 Egg yolk
10g Glucose
10g Honey
120g castor sugar (I reduced to 100g)

To make the filling:
50g whipping cream
1/2 tbsp castor sugar
Store bought sweetened Adzuki beans (red beans)

To make the matcha frosting:
75g white chocolate
30ml whipping cream
1 tsp matcha powder
Instructions:
Preheat oven to 180°C. Line 7 inch round pan with baking paper.
Sift together corn flour, all purpose flour and matcha powder.
Heat butter and milk in small saucepan til butter melts. Remove from heat.
In a medium heatproof bowl, lightly whisk egg, egg yolk, glucose, honey and sugar.
Place 60-70°C hot water in another bowl, sit the medium bowl over the hot water and beat with a handheld electric whisk until egg mixture is pale and thick. Batter should hold it's shape briefly when whisk is lifted. Remove from heat.
Sprinkle sifted flour onto mixture from a distance above the bowl. Using a rubber spatula, fold in the flour.
Slowly add melted butter and milk mixture and mix in a circular motion, scraping the base and sides, until just incorporated.
Pour batter into baking tin and bake at 180°C for 25-30 mins.
Whip the whipping cream with sugar until stiff peaks.
Heat cream in small saucepan and when it starts to boil, switch off heat and add white chocolate. Let sit for 5 minutes before stirring until all chocolate had melted and sift in matcha powder. Mix well.
When the cake has cooled, cut into half, spread cream and adzuki bean on one half of the cake and sandwich it with the other half. Crumb coat the cake with rest of the cream and place in the fridge to set for about half an hour. Take out the cake, place on a wire rack with a baking pan below to catch the drippings. Pour matcha frosting over cake, coat with almonds or other desired toppings.
This recipe is made by Oliver Smile
This recipe is a part of our "Top 10 Dessert Recipes with Matcha" that can be downloaded here.