This is a cake perfect for noshing—little slivers taken repeatedly over the course of a slow afternoon—and goes brilliantly with a hot cup of any sort of tea, green or otherwise.It's delightfully dense, like a tightly crumbed, firm poundcake, but avoids the usual pitfall of dryness with a touch of cream, which keeps it moist even on the second day.
The matcha in the cake is not overpowering at all. It adds a whisper of green tea, a little kick of grassy, springy brightness, but isn't overwhelmingly bitter.
This is a perfect pound cake, buttery and not-too-sweet; little ruby berries and a dusting of matcha powdered sugar make the perfect accompaniment.
It can be on your table ready to be served in less than 45 minutes, and keeps brilliantly. The last slice was that much better on the second day, as the cake had lost none of the flavor but become more moist overnight.
I could also see this being served with lashings of chocolate ganache or good honey, with a dollop of whipped cream or vanilla bean ice cream.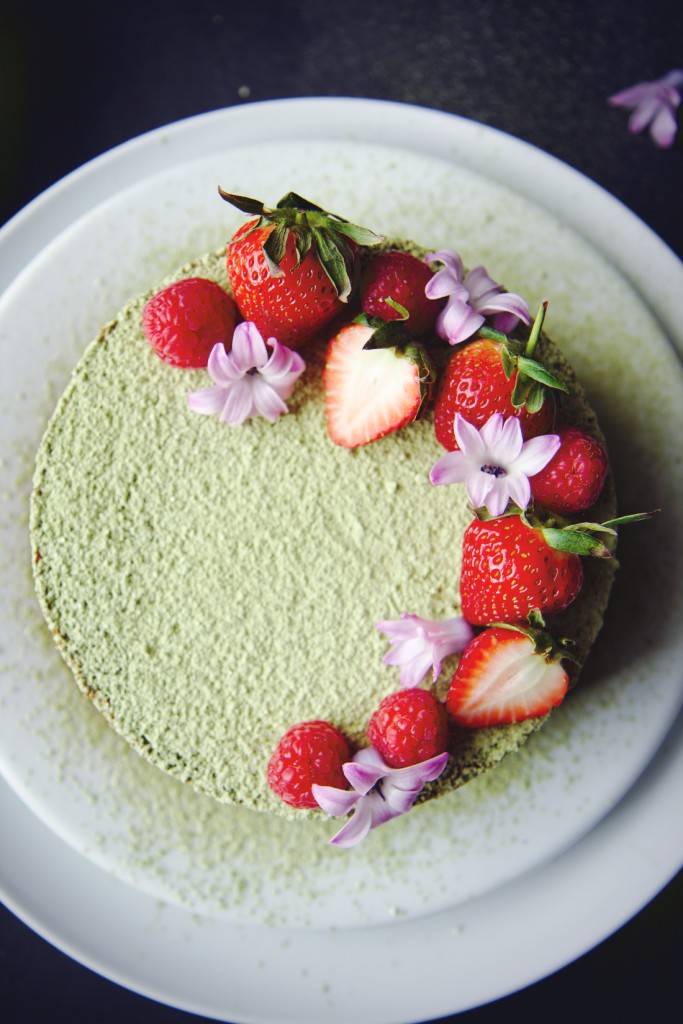 Ingredients:
for the cake:
170 grams (3/4 cup) butter, soft
200 grams (1 cup) sugar
1/4 teaspoons kosher salt
3 eggs
10 mL (2 teaspoons) vanilla extract
30 mL (2 tablespoons) heavy cream
1 tablespoon matcha powder
120 grams (1 cup) flour
1/2 teaspoon baking powder
for decorating:
1/2 teaspoon matcha powder
1/4 cup powdered sugar
fruit and flowers, as desired
Directions:
Preheat oven to 350 degrees F and grease and flour a 6×3 inch pan liberally.
Place butter in the bowl of a stand mixer with the sugar and salt and beat on high speed for 5 minutes.
Scrape the sides of the bowl and add in the eggs.
Beat on high for 5 more minutes.
Scrape the bowl and add the cream and vanilla extract; mix only until partially incorporated.
Add in the matcha, flour, and baking powder.
Scrape the sides of the bowl and mix to ensure homogeneity.
Scrape batter into prepared pan and smooth top.
Bake for 25-30 minutes, until the top is puffed and springy and a tester comes out clean.
Remove from oven and let cool for 10 minutes; invert onto a cooling rack and allow to cool completely.
To decorate, mix matcha and powdered sugar together very well.
Dust over the top of the cake and decorate with fresh fruit as desired.
Serve in repeated thin slices with hot tea!
Thanks for this recipe Rachel Sally