It is a glittering colorful summer jelly in which a rich green jelly made of agar and rich in fruits and beans are added to a honey bean jelly.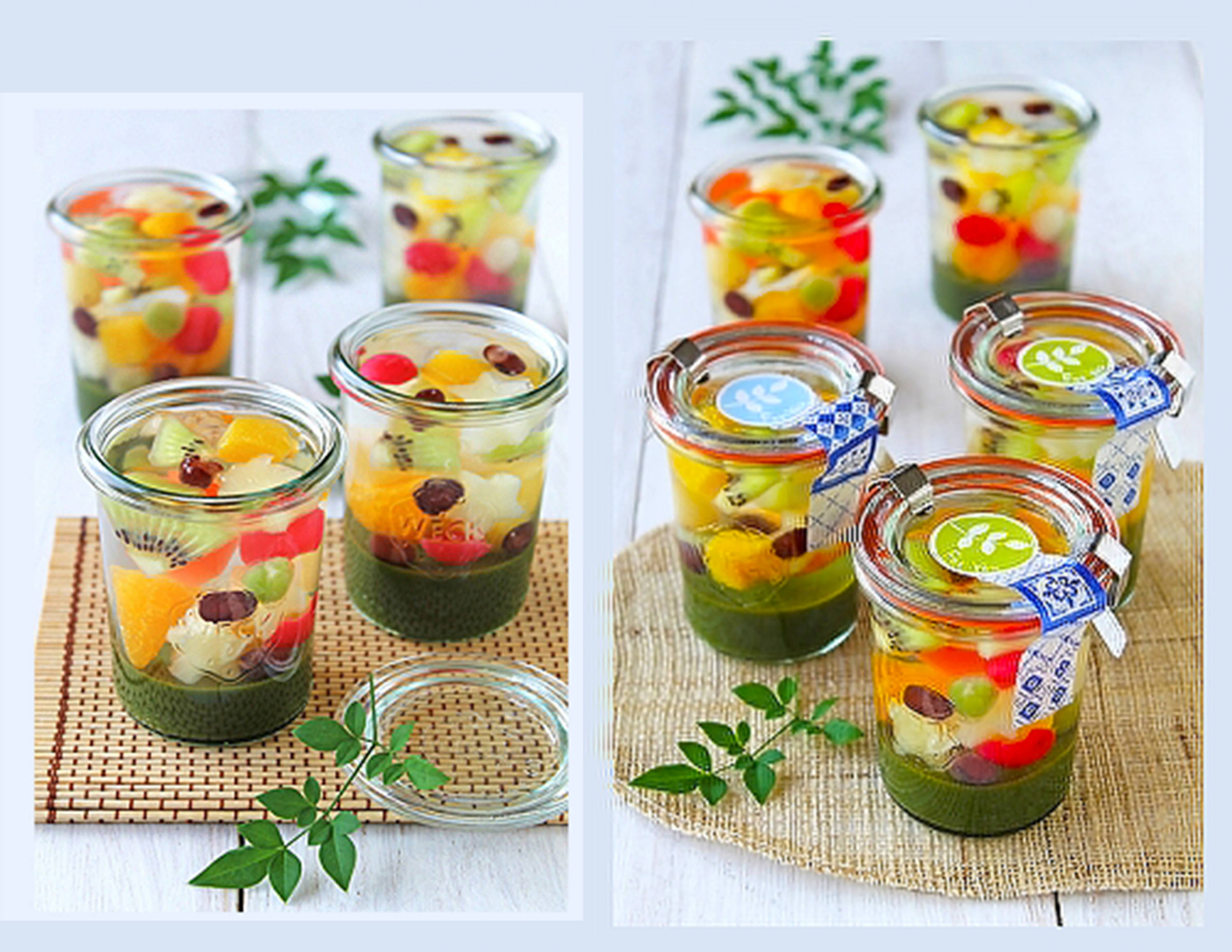 ---
Ingredients:
Matcha Jelly:
8 g matcha powder
100 ml boiling water
45 g granulated sugar
5 g agar
200 ml water
Mitsume Jelly :
500 ml water
65 g granulated sugar
10 g agar
10 g kirsch
Fruit mix cans, orange cans
Star-shaped pineapple can
Kanako mix
1 piece of Kiwi (bush cut)
Instructions:
Make Matcha Jelly. Mix agar and granulated sugar with a whisk.
Melt the battered green tea in boiling water and mix well until the lump is gone.
Put water in a small pan and boil, add 1 little by little, mix and dis-solve well. Once melted, add 2 green tea while rubbing, mix and stop the heat.
If it gets hot, pour about 50 ml into WECK and harden it in the refrigerator.
Make honey bean jelly. As with green tea jelly, agar and granu-lated sugar are mixed with a whisk.Bring the water to a boil and mix well in small portions to dissolve well. When it melts, turn off the heat and add and mix the kirsch.
Pour it on top of the green tea jelly that has hardened when the fever gets cold. As it increases when we put in fruit, we put to around 8 minutes.
Cut the fruit into a size you like and put canned fruit on kitchen paper etc. to drain.
Add some fruit if it's a little bit too slow. Add beans and harden in a refrigerator.
          This recipe is made by Pao from Cotta
         
This recipe is a part of our "Top 10 Dessert Recipes with Matcha" that can be downloaded here.