You wan't believe how good and healthy this pudding is. Get ready for a delicious treat!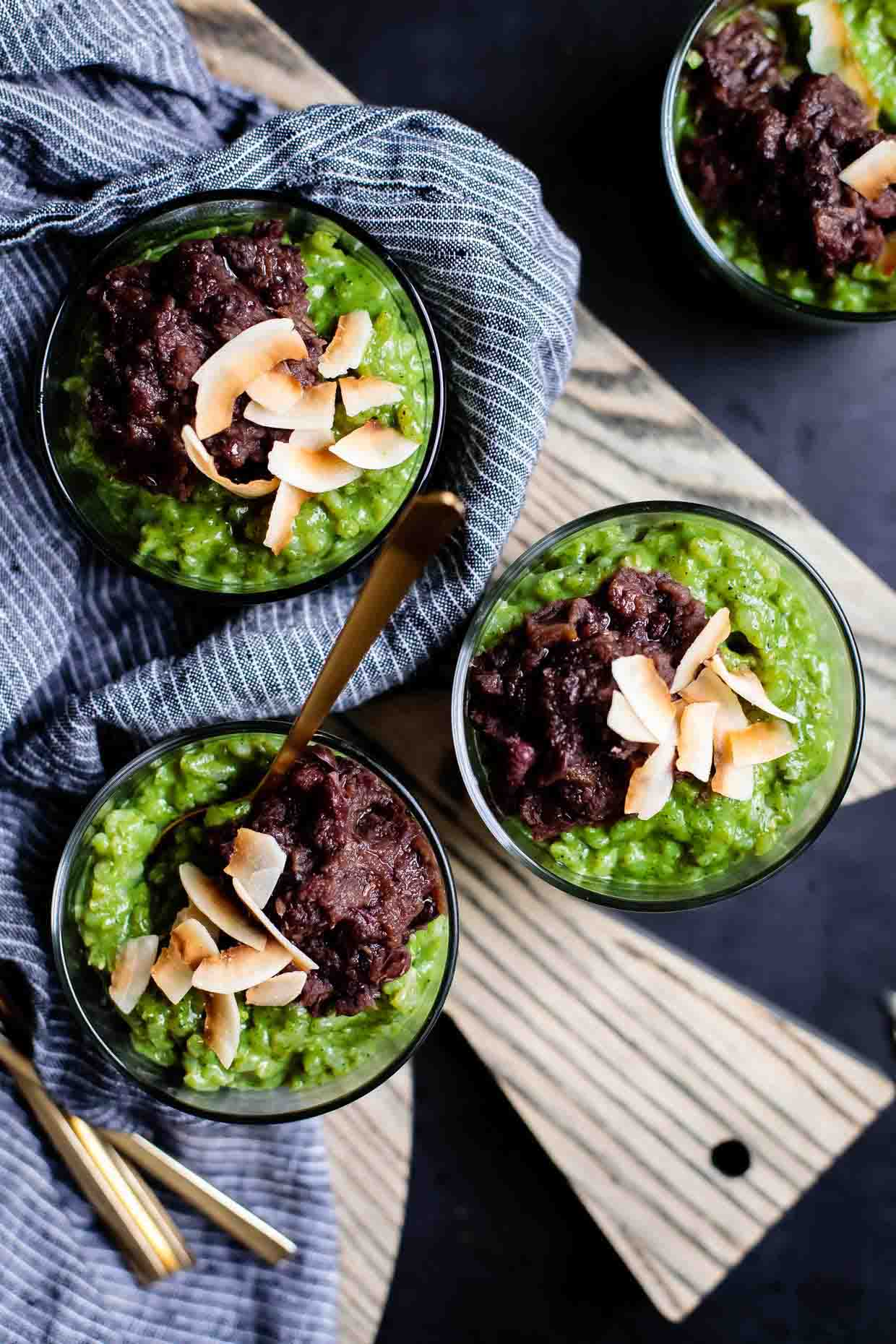 ---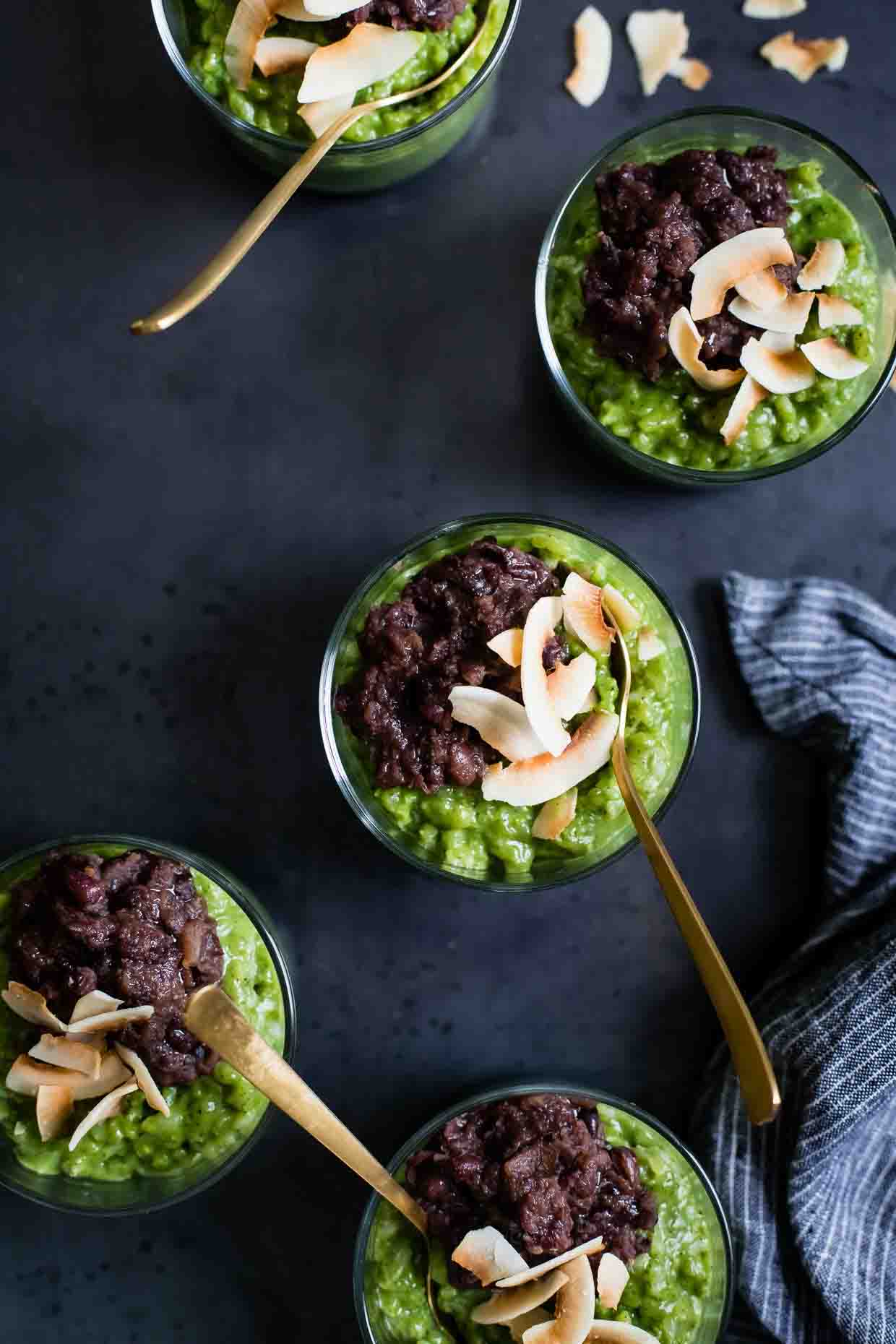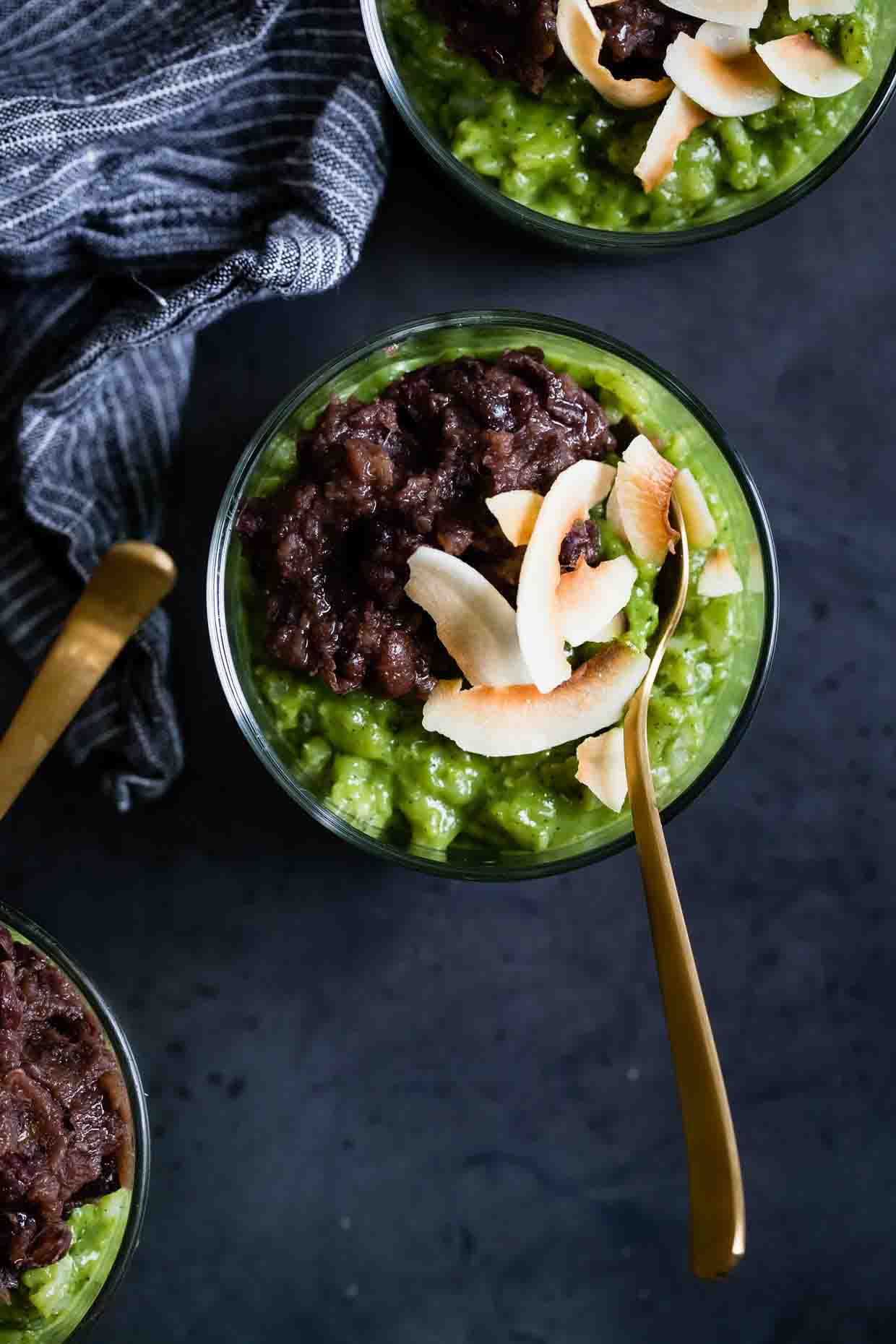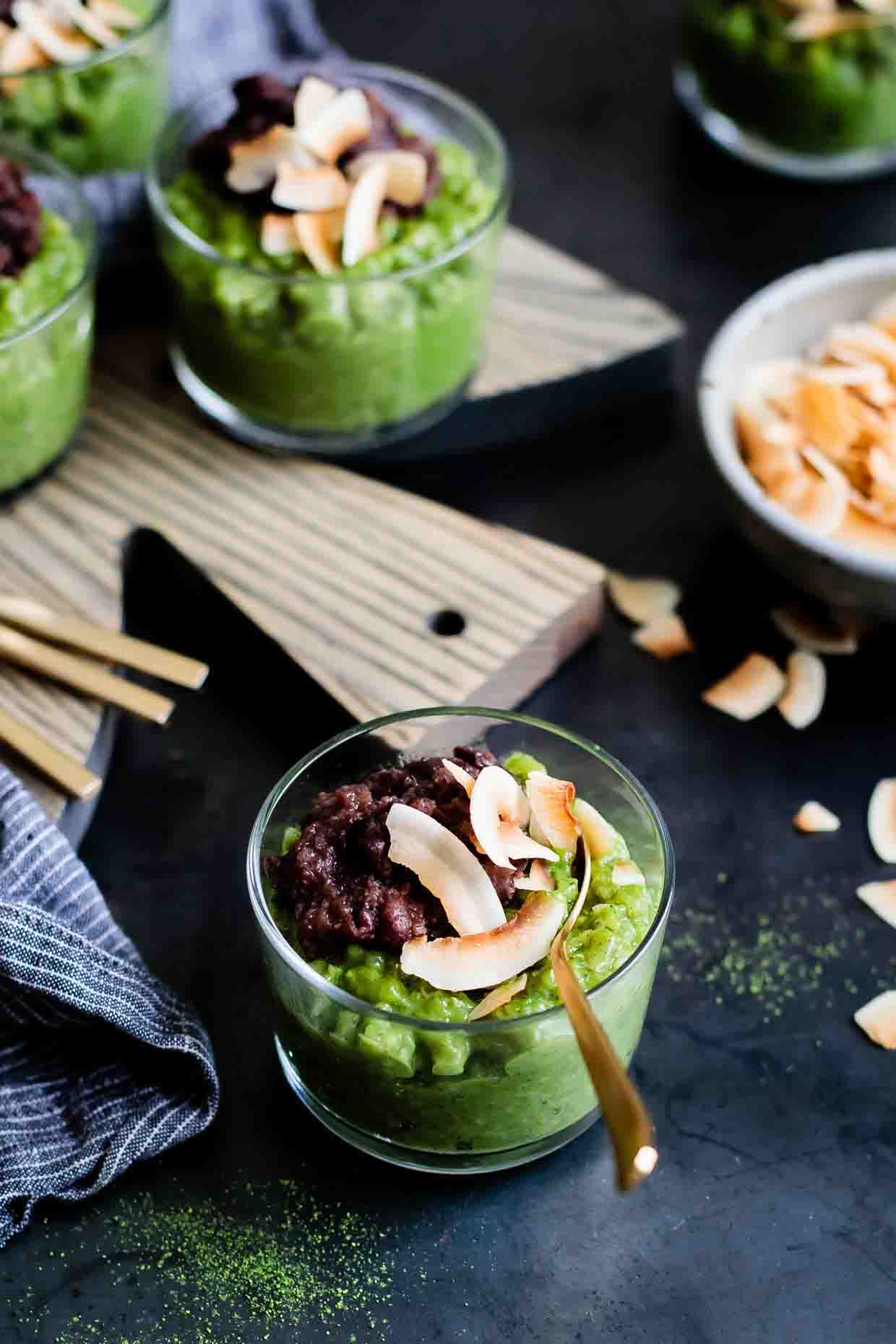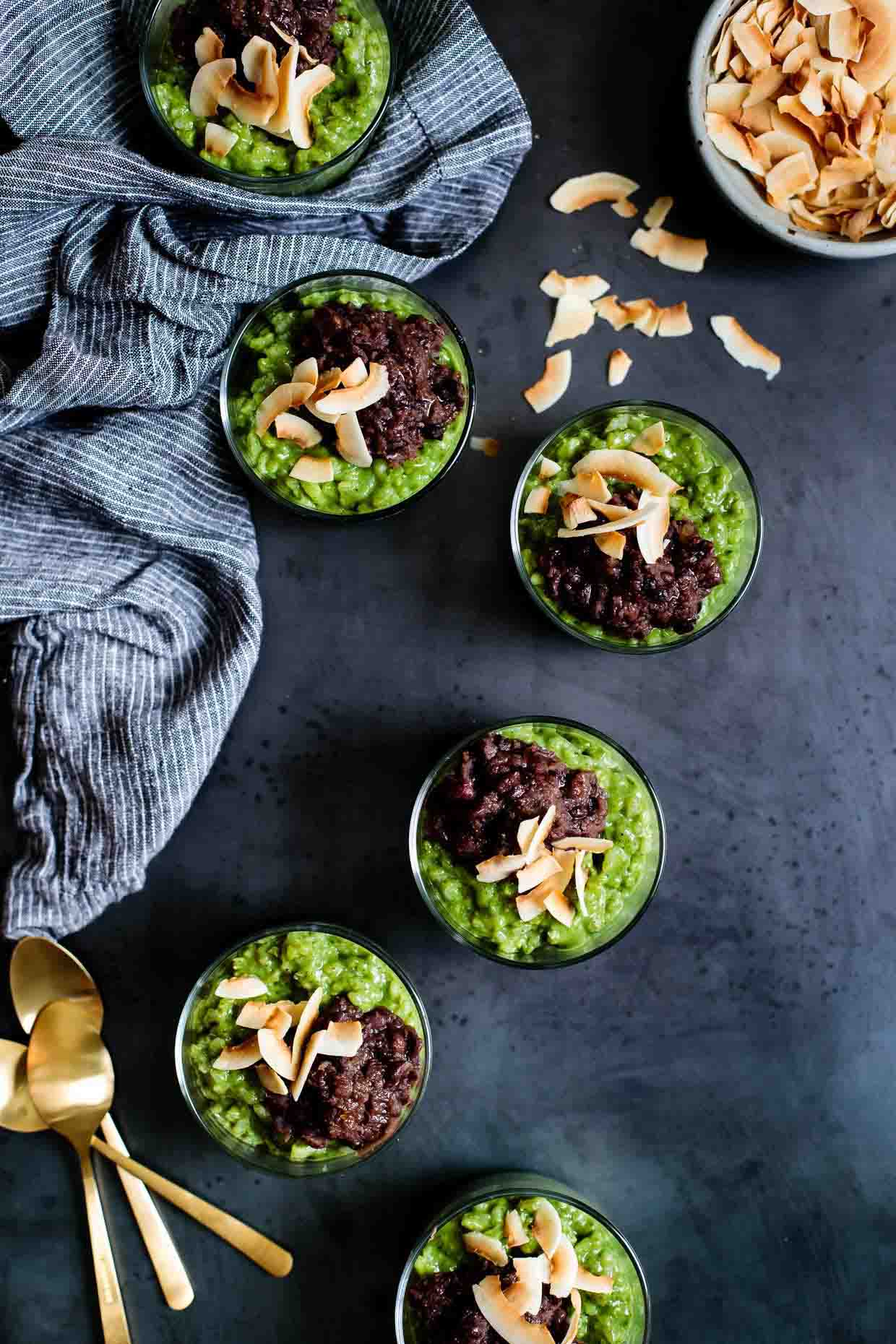 ---
Ingredients:
2 cups water
1 cup uncooked arborio white rice
2-2/3 cups canned lite coconut milk (a little less than two 14.5oz cans)
1-1/3 cups coconut water
½ cup + 1 tablespoon raw turbinado sugar
1 vanilla bean, split lengthwise and scraped
1/2 teaspoon pure vanilla extract
¼ teaspoon kosher salt
1 tablespoon matcha powder 
½ cup canned coconut cream
Date Adzuki Bean Paste
1/2 cup dry adzuki beans
½ cup finely chopped pitted dates (I used medjool dates)
Water
Instructions:
Bring water to boil over medium heat in a medium saucepan.
Add rice and cook, covered, for 5 minutes. Drain rice thoroughly and rinse saucepan.
In the same saucepan, bring coconut milk, coconut water, sugar, vanilla bean scrapings and pod, vanilla extract, and salt to boil over medium heat.
Stir in the drained rice and reduce heat to low. Simmer, stirring, for 5 minutes.
Cover the saucepan and simmer, stirring occasionally, for 45 minutes, or until most of the liquid has been absorbed. Crack lid halfway through the cooking time to let some moisture out and be careful not to burn the rice on the bottom of pan.
Fold in the coconut cream. Sift matcha powder over the top and stir to combine. Taste and adjust matcha to taste (I used close to 1½ tablespoons for a strong matcha flavor).
Serve topped with date red bean paste.
Date Adzuki Bean Paste
In a small saucepan, cover beans with water (3-4 cups) and bring to boil over medium heat. Boil for 5 minutes then drain the beans well and rinse the saucepan.
Return the beans to the pot, cover with 3-4 cups of water, and bring to a boil over medium heat. Reduce heat to low and bring to a simmer. Cover and let simmer for 25-45 minutes, adding more water if needed to keep the beans covered. The beans will be very soft and will easily squish between your fingers when finished (almost falling apart on their own) - mine took 25 minutes, but you can cook up to an hour, if needed!
Drain the beans through a fine mesh sieve or a towel-lined colander and again rinse the pot.
Add the chopped dates and ¼ cup water to the pot and cook over medium-low heat, stirring and adding more water a tablespoon at a time as needed if the dates get too dry. Cook until the dates begin to break down into a paste, about 5-8 minutes.
Add the cooked beans to the pot and cook, stirring, until completely combined into a chunky paste. Spoon warm over rice pudding or, if you prefer, purée the sweet red beans in a food processor or blender until smooth before spooning over pudding.
          This recipe is made by Sarah Menanix from Snixy Kitchen
This recipe is a part of our "Top 10 Vegan Recipes with Matcha" that can be downloaded here.